Juror - SMCC Startup Challenge by Nasscom
- 2 minutes read
- 307 words
NASSCOM is the premier trade body and chamber of commerce of the Tech industry in India and comprises over 2800 member companies including both Indian and multinational organisations that have a presence in India. Center of Excellence - IoT and AI is an initiative from NASSCOM and collective effort from different state governments in India,
NASSCOM CoE is launching first-of-its-kind virtual SMART MANUFACTURING COMPETENCY CENTER (SMCC). The innovation platform which will help in accelerating technology adoption by bringing enterprises, governments, researchers, and innovators together. SMCC is designed for senior leaders from manufacturing companies to understand the application of Industry 4.0 to solve manufacturing challenges through the demos of digital solutions from the solution providers.
Startup zone is key element of this competency center and to ensure we have best of the solutions come forward for the demo, we are hosting a challenge for the matured startups having proven digital solutions in the manufacturing domain. We have 28 booths across 7 categories of use cases and we plan to allocate these booths to startups that emerge as winners and finalist in the evaluation process.
Challenge Categories
Condition monitoring/ Predictive maintenance of high value assets
Supply chain management
AR/VR based Solutions for resource optimization
Smart energy management
AI and Analytics Solutions for process improvement
Workers health & safety
Computer Vision/IoT Solutions for Quality Inspection
I have been a Jurar at the event.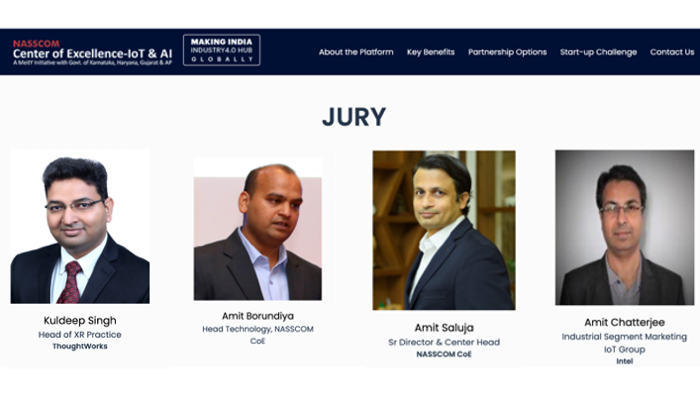 5th Feb 2021 - 3rd March 2021
Experience
It was great experience talking with startup and interesting ideas on predictive maintenance, conditional monitoring and computer vision technologies. Cost effective solutions such as drone based inspection of larger areas, and automated robots for solar plate dry cleaning, along with solutions using IOT sensor suites and platforms for predictive and prescriptive maintenance were real good. Automated defect detection, video analytics, augmented reality guides were other interesting solutions.
#iot
#ai
#xr
#ar
#mentor
#judge
#event
#nasscom
#hackathon