Judge - Ashoka University Hackathon 2022
- 3 minutes read
- 536 words
RedBrick Hacks is flagship summer hackathon of Ashoka University, open to students from Delhi NCR. You will have the opportunity to learn, collaborate, and build meaningful projects alongside mentors from various disciplines. For 24 hours on the weekend of June 18, you will have access to free workshops, plenary lectures, prizes worth over ₹8L, games, and more!
The theme of the event was "Tech for Social Good" with three main tracks: Health & Wellness, Sustainable Growth, and Security & Privacy. The participants had to identify relevant problems in these domains and build their own solutions within the 24-hour time frame.
I was wonderful experience to join such an event face to face after so long. I have participated as a Judge, and joined the panel with Saud Khan from Twitter, Muthuraj Thangavel from Google, and Deepa Nagraj and Satish Rajarathnam from MPhasis. I was amazed to see such wonderful ideas for the topic close to my heart "Tech for Social Good, Responsible tech".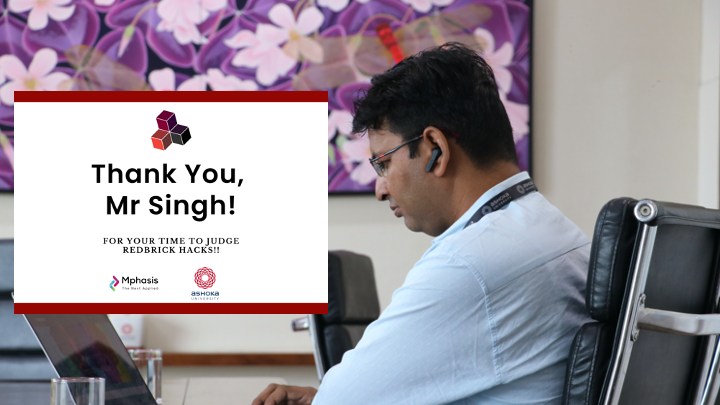 Event Wrap
I joined the closing ceremony with colleague Jitendra Nath, who was a speaker at the event, and has shared his industry experience with the students. Students have also enjoyed inspiring talks from other speakers Latha Raj, Utkarsh Uppal, and Joshua David.
It was great to have participants from different colleges from all over Delhi-NCR. 140+ students from 25+ colleges, I got chance to access top 10 teams in Jury round, and I was amazed to see their innovative ideas, and demonstrations the young blood of nation bring on the table. They were easily explaining some complex concepts of machine learning, computer vision, spatial computing, NLP and IoT. Not just that, they were well concerned about challenges we as a country facing in this COVID time in Health-care, Education and Sustainability.
It was amazing to see these youngsters come up with interesting usecases, and demoed working concepts. It is not the a complete list, just some glimpse.
Automatic Waste Segregation using AR, awareness creation apps
Face mask detection, point cloud detection and personal AI trainer for exercises health routine.
Using technology to report and reduce crime
Accelerate education by easy remote tools, accessible content management, attentiveness checking and alerting - really important when most of the education being planning as online classes.
Patient monitoring and record keeping, remote consultation - this is need of time to digitally transfer patient records and have remote consultation facilities.
Use technology to detect diseases and reduce chances of mis-diagnosis
Tools for specially-abled people.
Guide for sex education
We would like to congratulate our winners, it was not easy to judge the event. I also addressed the students in the closing ceremony that this just a start, all who participated are the achievers, when we practice we become better it, and this platform have given the students a chance to become a better ideator. I also suggested the students to be cautious while using tech as solution. Tech is just an enabler/tool to solve something, it is not a solution in itself. Eg. Just using buzz tech like blockchain, ARVR, etc may not make your solution innovative, unless it solve some real good.
Thanks to the participants, mentors, organizers and sponsors of the event. Keep it up!
#xr
#ai
#judge
#hackathon
#event
#ashoka
#ar
#innovation
#ml
#machine learning
#cv
#sustainability
#university