Speaker - XR and Sustainability - GSF Global Summit
- One minute read
- 188 words
Green Software Foundation
Green Software Foundation (GSF) is building a trusted ecosystem of people, standards, tooling and best practices for Green Software. GSF works with vision to change the culture of building software across the tech industry, so sustainability becomes a core priority to software teams, just as important as performance, security, cost and accessibility. Read more here.
GSF Global Summit 2022
The Green Software Foundation Global Summit 2022 is a series of free events organized by Green Software Foundation members all around the globe that are passionate about sustainable software development, maintenance.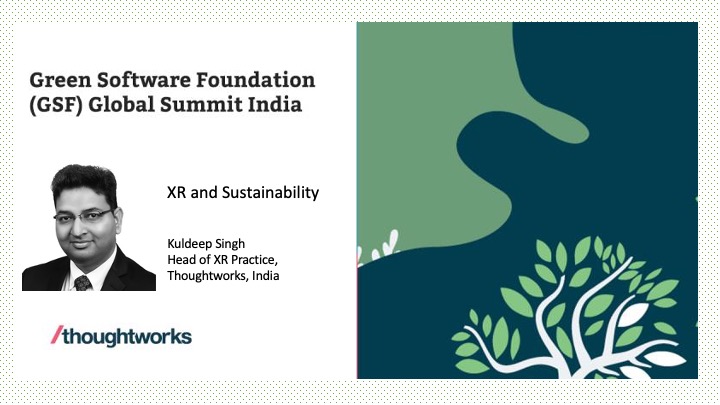 I will be talking at the summit on "XR and Sustainability" at Thoughtworks Gurugram office.
Highlights of the talk
Understanding the XR and sustainable development
Sustainable usecases of XR
Sustainability concerns of XR
What's next, What we can do.
Register here
This is register only event, please register here and join us on 10th Jun, 2022 : 9:00 am - 04:00 pm IST
Event Wrap
Stay Tuned!
Those who missed the live session
You may download slides here.
Happy learning!
#xr
#ar
#vr
#mr
#thoughtworks
#event
#speaker
#green software
#talk
#sustainability
#metaverse