My thoughtworkings from five thoughtful years
- 4 minutes read
- 808 words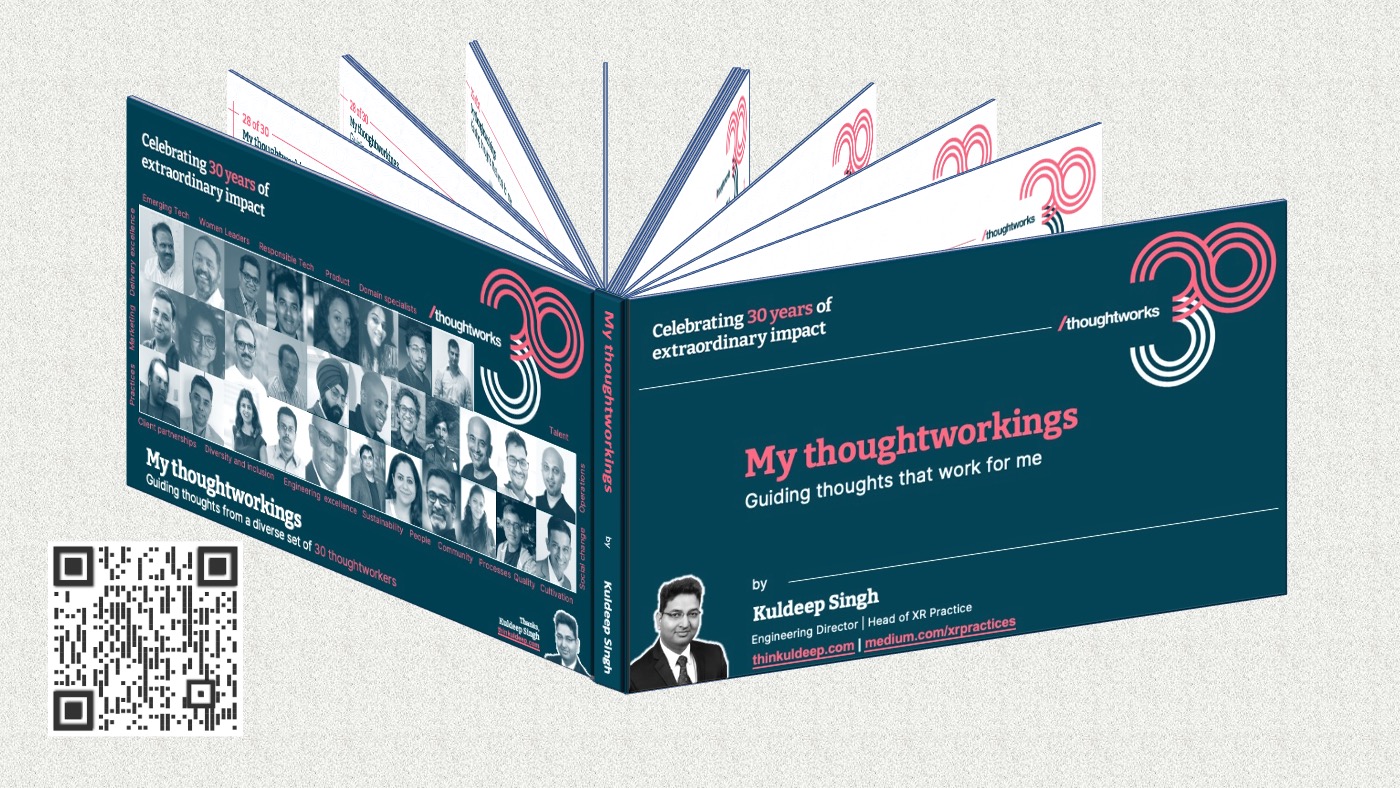 Thoughtworks is celebrating its 30th year in industry, and I have completed five years here, and to celebrate this, I have compiled thoughts from thoughtworkers, and published them as an ebook. I am grateful for the wealth of knowledge and experiences shared by my colleagues. These thoughts have resonated with me and shaped my journey within the organization and life.
I am excited to launch the ebook with this post. I believe this compilation of thoughts will not only serve as a personal reflection but also as a valuable resource for others on their own professional journeys. May these guiding thoughts continue to inspire and empower individuals to make a positive impact in the world of technology.
📖 "My thoughtworkings" - How did it start? 📖
It all began with a LinkedIn post, and over the past 2 months, I have followed the trail of 30 guiding thoughts. Looking back at my five years here, I recall the captivating conversations with my colleagues. Some first-time interactions still linger in my mind, while others have grown even stronger over time through our collaboration.
These 30 individuals are not the only contributors to my journey; they represent the essence of a promise kept for "30".
🌟 Five categories of thoughtworkings 🌟
30 thoughts from 30 thoughtworkers, and each thought is a gem.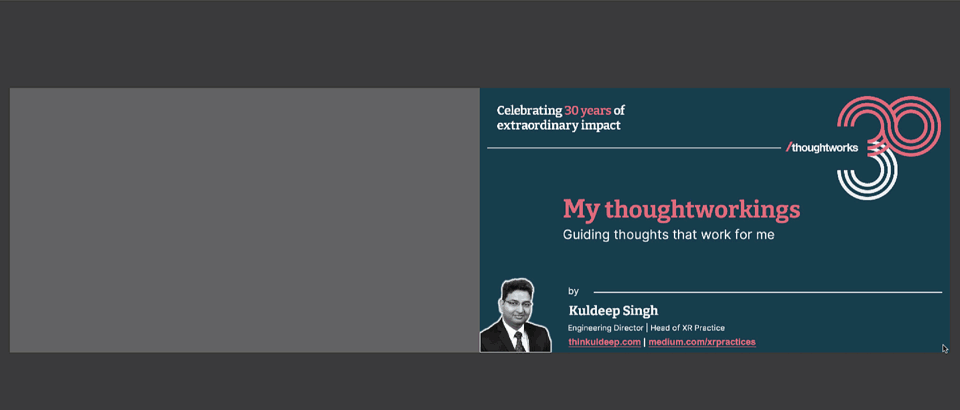 As I celebrate my own five-years journey, and I categorize these inspiring thoughts into five themes as follows:
🙇🏽‍ People process: Build a common ground through open communication, minimize emotions to enhance decision-making, and trust the teams while enabling their growth. Lead from both the front and back, empowering others through effective delegation. By following the processes that make sense, we embrace every journey's first step with a beginner's mindset, seeking new opportunities and unexplored territories. These insights cultivate a positive team culture and effective leadership, paving the way for success.
🚸 Organization navigation: Leave the baggage behind, embrace a fresh start. Being hands-on and authentic, we navigate the journey with flexibility, storytelling, and executive presence. Master the smooth transitions, and maintain a light and responsible approach towards the technology we produce and consume. These insights empower us to navigate the organizational landscape effectively and create a positive impact on the teams and projects we work on.
🎭 Personal branding: Be our own brand and consistently maintain it. Communicate our aspirations loudly and clearly, showcase the confidence that serves as the best make-up. By embracing the "nothing special" mindset, we recognize the power of being a "शून्य" (Zero) and continuously striving for more. Encouraging ourselves to never settle, always seeking to go beyond boundaries. These guiding thoughts empower us to build a strong and authentic personal brand, making a lasting impact in our professional and personal endeavors.
🤖 Engineering excellence: Embrace the importance of tests as our first line of defense, rather than a last resort. Understand that tools are a medium, not the ultimate goal, and true innovations start from within our own organization. Value the significance of validating hypotheses and focus on creating products that truly matter. By measuring what matters most, we ensure our efforts align with our goals. Creating an environment conducive to deep work empowers us to deliver our best work efficiently. These guiding thoughts drive us towards engineering excellence and continuous improvement, making a significant impact in our technological pursuits.
📈 Scale: When it comes to Scale, the remarkable story of India's scale in technology adoption comes at top. Break the self-made boundaries that limit our growth and take bold steps to enter the challenging domains. Create effective pitches ensuring attention, benefits, courage, and defense. Embrace fail-fast and learn fast to iterate and improve rapidly. These thoughts collectively fuel our journey towards greater scale and impact in the world of technology and beyond.
These thoughtworkings are invaluable lessons that continue to inspire and empower me, as well as others on their own professional journeys. Read more in the book below.
📚 "My thoughtworkings" - Free and Open for all! 🌐
Excited to share my ebook filled with empowering thoughts from thoughtworkers. It's available for everyone to access and enjoy! Dive into the world of insights and inspiration. Happy reading! 🎉
This collection is my personal observations, and presented in no particular order. I continued from the impactful change stories, and reflections of thoughtful years after accepting the change. These five years have changed me a lot. The list of my learnings is huge, but for this 30th anniversary of thoughtworks, I limited the number to "30" thoughtworkers from various backgrounds, experience level, operations, business, delivery, technology, product, management and more. I hope you enjoy reading these thoughts as much as I enjoyed putting them together.
Refer here to know more about books I authored, foreword or reviewed.
#books
#learnings
#about
#general
#thoughtworks
#life
#change
#reflection
#takeaway
#motivational
#thoughtworkings
#journey