Discussion - Navigating the new normal
- 2 minutes read
- 312 words
The world is finding the ways to get out of Covid impact, some are on recovery path and some are still bettling it. At ThoughtWorks, we have recently published our insights on navigating the new normal with augmented reality. Members of Communities of Practice of The VRARA come together to discuss the topic and share the opinion on way forward for XR.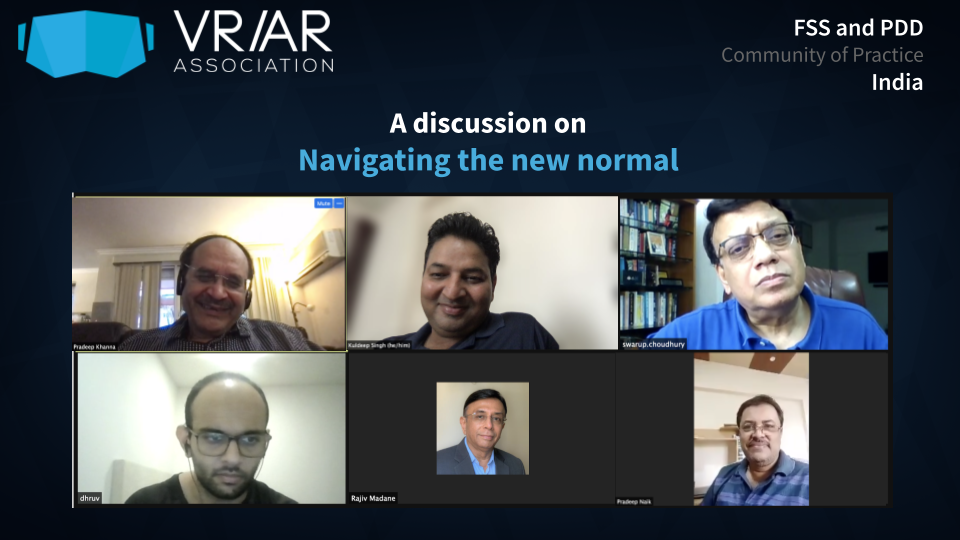 I presented thoughtworks insights to other renowned industry leaders and VRARA members like Pradeep Sharma, Swarup Choudhury and Rajiv Madane, and technology exports like Pradeep Naik and Dhruv. We have also discussed other updates from the VRAR Association.
Navigating the new normal with augmented reality
A research on how the panadamic is impacting people working from home, and how can XR technology address some of the challenges. Is 3D/XR experience really enjoyable, creative? What are the challenges in building right XR experiences? Why is the onboarding so important in XR solutions? Why to keep customer awareness part of go to market strategy? etc…
Navigating the new normal with AR Meetings, workshops, conferences, and webinars are happening in the same virtual - and often monotonous - ways.
Also discussed the best practices for building spatial solutions described here. Then the session was well drived by Swarup, and discussed the future of XR Collaboration apps, Pradeep Khanna shared insights from VRARA on the same, also shared what's coming. He is presenting on some interesting topics at upcoming VRARA events and VRAR Global Summit. Rajiv shared the importance of practical use case of XR for its adaptations.
We also discussed marketplace/XR platforms are growing in enterprises use cases - as described in this article.
Making pandemic-proof workplaces a reality with XR The IMF called the COVID-19 crisis 'unlike any other,' where the global growth contraction for 2020 was estimated at…
Watch here our detailed conversations -
This article originally published at XR Practices
#xr
#practices
#speaker
#discussion
#event
#thoughtworks
#vrara
#ar
#vr