The VAMRR ITeS Leaders Round Table
- 4 minutes read
- 693 words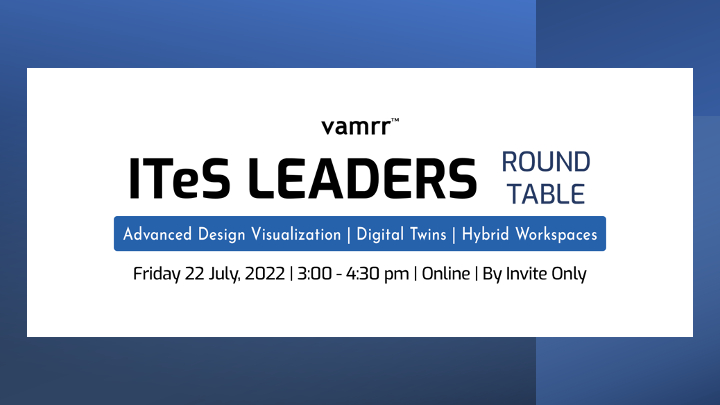 The VAMRR ITeS Leaders Round Table
The thoughtleadership roundtable is an exclusive event hosted by VAMRR Technologies Pvt Ltd, where they invite an elite gathering of 20 ITeS leaders focused on the areas of Design Visualization, Digital Twin and Hybrid Workspaces.
This one is the 98th Conference/Round Table by VAMRR Technologies, and focus this roundtable would be on developments across Advanced Visualization, Remote Design Collaboration, Hybrid Workspaces, 3D Workflows, Data Integrated Digital Twins, Web3 and Metaverse are all converging. As they converge, they offer exponential transformation impact and opportunities to the IT/ITeS/Technology sector.
I would like to Thank VAMRR Technologies for inviting me to share the stage with the esteemed industry leaders from NVIDIA, Accenture, Bosch, Verizon, L&T, Wipro, Tata and more.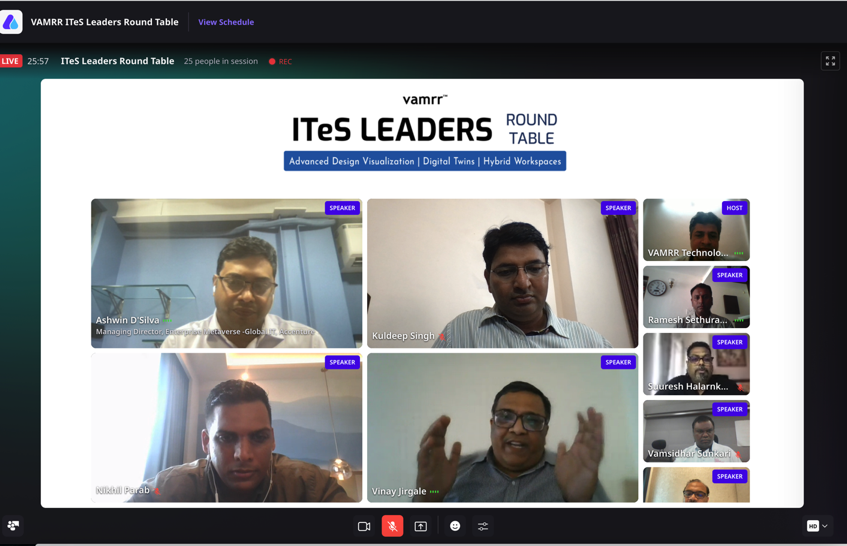 Keynotes
New Era of Design Collaboration w/o Compromising Performance, Security & Manageability. - Nikhil Parab | Head, Pro Viz Business India, NVIDIA
Fireside chat
Collaborate & Build Digital Twins with Minimal Effort with NVIDIA Omniverse. - Eloise Tan | Senior Business Manager, Software APAC , NVIDIA , Anand Gurnani | Founder, VAMRR TECHNOLOGIES
The Roundtable
Discussion topics at the Round Table Include
The Convergence of Design, Visualization & Technology
Managing Design & Remote Design Collaboration in Hybrid Workspaces
Design to 3D to Data & Digital Twin
The Business Impact of Advanced Visualization, Immersive Technologies & Digital Twin
Participants
Takeaway
We discussed and shared our experience of building for XR and metaverse, and how it is impacting and challenging us. XR and metaverse are like a technology at the stage when first time Radio Frequency wave was invented, and everyone was thinking where can we use it. Imaginations were at its hype, people were thinking if we can transfer data over RF from one city to other city nearby it would change the world, and some we were imagining of connecting between states, countries and space. XR or Metaverse also at the stage where usecases are being explored in all different areas, it would be adapted along with the evoliutions.
In my previous article, I have defined current stage metaverse as a result of technology evolutions. NVIDIA Onmiverse will fuel the XR adaption, and were photo-realistic rendering would be possible at edge cloud and smart glass/XR would remain as at display device which can display graphics at good frame-rates, where frames are delivered from CloudXR. Content delivery and consumption is the key for XR solutions, and platform like Omniverse would definetely help here.
We have also discussed that technology should solve people's problem, for example this new era of remote first digital transformation is one side connect the world more, and on other side it is reducing the emotional connect. We would need faster evolution, why are vehicles still driven by humans? why people participation required in wars to drive tank, fly aircraft? why a driver can't work from home and drive a vehicle seating at their comfort? hope technology will some day take us there…
Happy learning!
#xr
#ar
#vr
#mr
#thoughtworks
#event
#speaker
#metaverse
#leader
#talk
#design
#vamrr
#roundtable