Judging the Smart India Hackathon Juniors 2022
- 3 minutes read
- 430 words
After a wonderful experience of participating as a judge and mentor at Smart India Hackathon 2019 and 2020, I am delighted to share that I got a chance to meet and judge India's young winners and innovators at Grand Finale of Smart India Hackathon Juniors 2022, Smart India Hackathon 2022 is a nationwide initiative to provide students a platform to solve some of the pressing problems we face in our daily lives, and thus inculcate a culture of product innovation and a mindset of problem solving. It is world's biggest open innovation modal, organized by AICTE and Ministry of Education, Govt of India, and other industry partners. This one is very special, it is for school students.
I attended the grand finale on 12 Aug 2022, and sharing here my experience and learning. I am assigned to a Nodal center — Noida Institute of Engineering and Technology, here is how rest of it goes.
Inauguration Session
Grand finale inauguration session started at 9 AM by Dr. Mohit Gambhir), Director, MoE's Innovation Cell Secretary, Organizing Committee Smart India Hackathon 2022.
Grande Finale Judging Sessions
Judging sessions was start at 10:30 am, and there were multiple sessions in parallel. I joined one of the track, and evaluated 9 teams in first round, and we needed to select top 1 from this set. Problem statements for my teams were in the category of "Transportation_and_Logistics".
Every team was given 20 minutes to discuss their ideas, and evaluated on solution approach, novelty, ambitiousness, complexity, impact, technology, innovations, user experience and execution feasibility. It was very tranparent process, evaluation criteria was well shared in advance with jury as well as students. Every evaluator is supposed to evaluate independently on an online platform.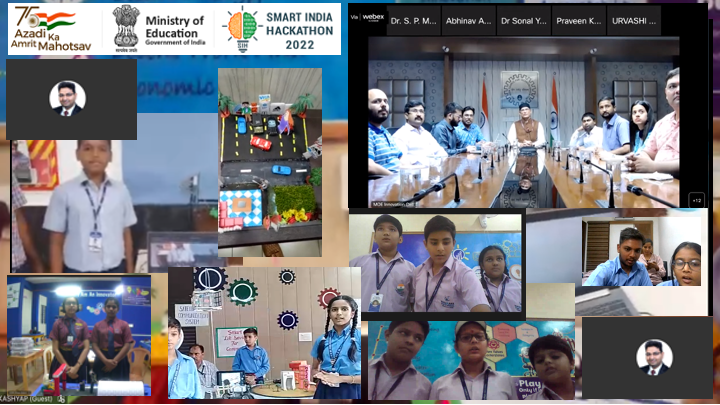 We were amazed with ideas shared by kids to detect and solve land slides, tunnels safety, rider safety, road safty bus/train monitoring, traffic issues, parking problems, smart cycle stands ,scaling electrical vehicle, and so on. They all were presenting their idea so confidently that at time we forgot this they are Juniors, are still in schools. It was very difficult to choose from these ideas.
Then we had another round Power Judging Round, where top 1 team from each panel was presenting. and here concluded on top 5 of SIH Juniors 2022 from NIET nodal center.
Thanks to NIET faculty and student coordinators for organizing is so well.
Smart India Hackathon 2022 Seniors
This is coming next, I have participated as evaluators some time ago, and the grand finale will be planned soon.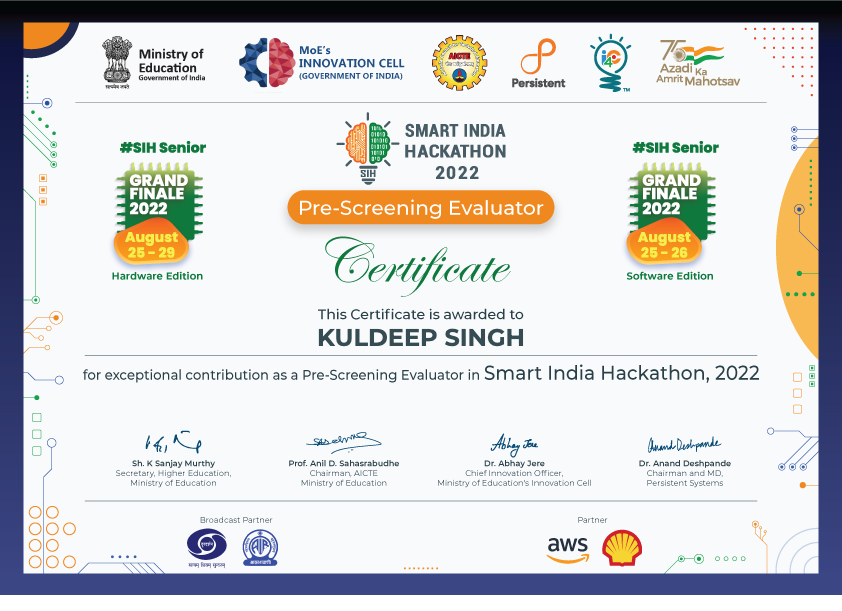 Good bye, keep in touch, keep rocking, stay safe!
#AjadiKaAmritMahotsava #AatmnirbharBharat
#sih
#experience
#takeaways
#event
#hackathon
#judge
#mentor