Speaker - XConf-2022 - Thoughtworks India
- 4 minutes read
- 648 words
The XConf
XConf is Thoughtworks annual technology event created by technologists. It is designed for technologists who care deeply about software and its impact on the world.
Last year XConf was virtual but this year, we are resuming to a physical one, so come meet us face to face in Bangalore at ITC Gardenia on Friday, July 29.
I am exited to share the stage with renowned technologists like Supriyo Ghosh, Chief Architect, Open Network for Digital Commerce (ONDC) India, our Head of Technology Bharani Subramaniam and Vanya Seth along with other techies from three streams Emerging Tech, Digital Transformation and Data.
I will be speaking with Raju Kandaswamy on "AI Assisted Content Pipeline for XR"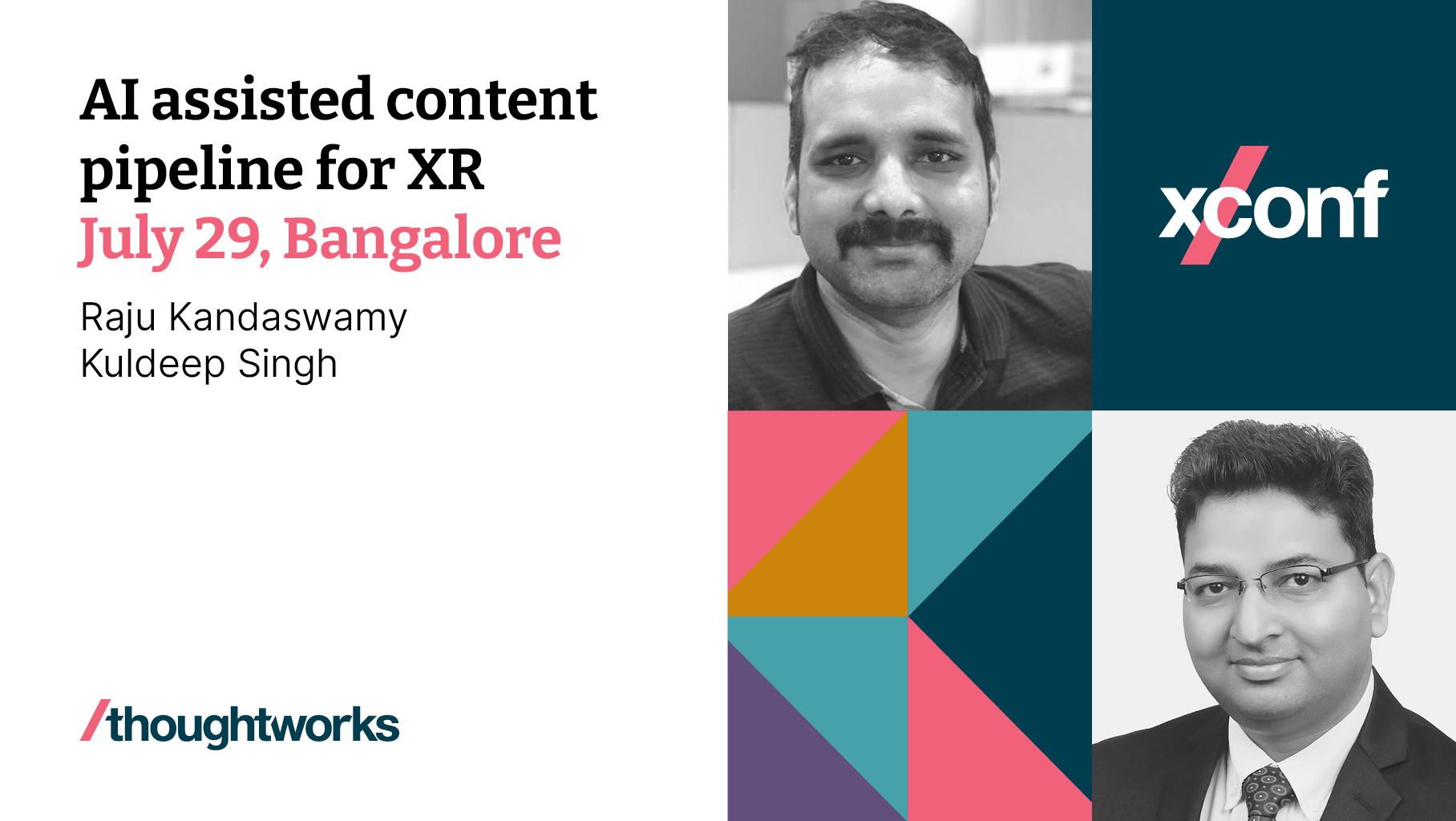 Highlights of the talk
Understanding the ask from the Metaverse and XR
The XR content management - current stage and challenges.
Content automation pipeline using AI
Mass generation of XR content
Register here
This is register only event, please register here. Registration closing soon.
Event Wrap and Key Takeaway
It was amazing to join such an event face to face after so long, there was a lot of excitement in participants as well as organizers.
Hello from #XConfIndia event!
We'll be live tweeting some snippets from the conference. Watch this space. #TechConference #ThoughtworksIndia pic.twitter.com/WWEm9kWdUE

— Thoughtworks India (@thoughtworksIN) July 29, 2022
Stage was set so well and was a full house. #XConfIndia was trending on social media.
The ONDC, the next disruption in digital commerce
I loved the keynotes by Supriyo Ghosh, who talked about Open Network for Digital Commerce (ONDC), it's architecture, and how decentralized architecture will come into play. I have always been talking in the metaverse adoption challenges, that there will be tussle between centralized and de-centralized architecture, as community based eco-system would like it in de-centralized fashion, but central authority, governments always wanted to control centrally. It changed my thinking after looking at the ONDC architecture, and how government is adopting it safely.
He further deep dives into democratizing #digitalcommerce and the tech initiatives ONDC has implemented to get there. #XConfIndia pic.twitter.com/sNM7uz3fXm

— Thoughtworks India (@thoughtworksIN) July 29, 2022
Top 10 tech trends
Very well covered by Bharani Subramaniam and Vanya Seth. Key trends they spoke are scripting the kernel (ePFB, taking ownership of rising cloud costs. Preserving data privacy while linking databases (record linkage), Authorisation as service still a need (eg SpiceDB) that has been inspired from Google's Zanzibar, pretotyping over prototype and cleaning the software supply chain systems, building protocols that can build platforms, sustainability and more.
Thoughtworkers @bharani_sub and @vanyaseth get started with the ten technology trends you need to know as #technologists at #XConfIndia. pic.twitter.com/JkLnkuEs0P

— Thoughtworks India (@thoughtworksIN) July 29, 2022
Tech Tracks
Overall focus was on data and AI. there were 3 tracks, one was focused data and DataMesh based practices, and one was focused on digital transformation where we talked about development practices such as security at scale, clean code, service meshing etc. and we had a dedicated track for emerging tech. At emerging tech track we talked about how AI can help in XR/Metaverse content generation, and Drug discovery, and how to measure carbon intensity of the software we are producing.
Extended Reality#XConfIndia @thoughtworksIN pic.twitter.com/JePZUGDxEl

— Karanchdey7 (@Karanchdey71) July 29, 2022
Extended Reality…#XConfindia@thoughtworksIN pic.twitter.com/e8KtoIOPFH

— Karanchdey7 (@Karanchdey71) July 29, 2022
Hands-On Workshop
Two workshops was organized on very interesting topics "Patterns Of Distributed Systems" and "Divide and conquer with Micro-frontends". There was overwhelming response from developer community.
XR Experience Booth
We had a XR experience booth where we have showcased number of industory usecases in XR devices Lenovo ThinkReality A3, HoloLens, Oculus, Cardbaord, and mobile based XR.
Experience the feel of Meta and going completely virtually being in-person....

It's really enriching how uniquely volunteers are explaining @thoughtworksIN #XConfIndia pic.twitter.com/KlTxfLx0rD

— Parvez Alam I (@Parvez__AI) July 29, 2022
Event was full of life and fun.
Video Link Here
Happy learning!
#xr
#ar
#vr
#mr
#thoughtworks
#event
#speaker
#xconf
#talk