The Learning Equation
- 3 minutes read
- 591 words
Today, The world is celebrating teacher's day. I wish Happy Teacher's day to all of us! We all are teachers and learners as every one of us has something to learn from others and something to teach others. I am thinking of an equation of learning that defines my way of learning and hope it would be helpful for you too.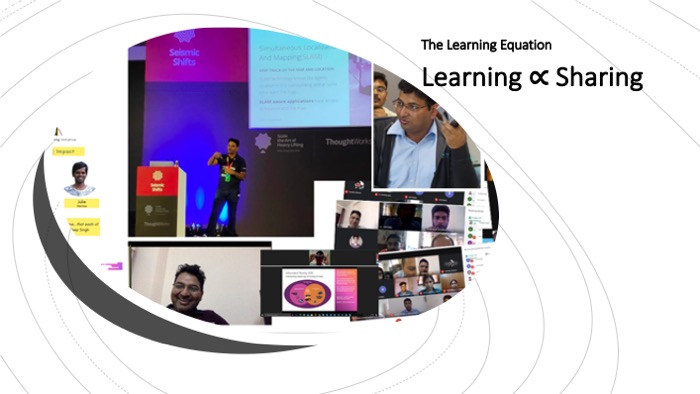 The learning equation — Learning is proportional to Sharing;
Learning ∝ Sharing
The more we share, the more we learn. The better we are at sharing, the better we become at learning. When we stop sharing, we stop learning too.
We learn every day in all situations of life, good or bad. The learning matures only by sharing, you explore more of yourself by giving it away to others. Writing helps me discover what I know, and that I can say confidently. — https://thinkuldeep.com/
I echo my colleague Jagbir's view on why he shares his takeaways to the wider audience. He is an influential writer and he starts with "IT'S NOT YOU, IT'S ME".
Why Does he Spam us with Book Reviews!? "A lot of folks read books and quite a few book reviews already exist, then why should I care about your post?". Truth…
You may find some of my takeaways here.
Yesterday, I was discussing my mentoring experience with the PeriFerry team, and some life long lessons I learned here. This mentoring initiative is supported by PeriFerry and ThoughtWorks.
It's been over 2 months since @thoughtworks partnered with @periferrydotcom for launching Prajña. Meet @KuldeepSingh & Julie. We wish all of PeriFerry's trainers, teachers, mentors a very Happy Teacher's Day! 🌱
Read more - https://t.co/odWuMBQM8z#Teachers #education#TeachersDay

— PeriFerry (@periferrydotcom) September 5, 2020
Here's something from one of our mentor's. Kuldeep says, "I had goosebumps on the very first call when Julie said, ''I am unique, and I am proud of myself''. It was just so powerful to hear that. Mentoring Julie has given me a new perspective of life; that each one of us have unique things to be proud of. We are all constantly learning and evolving, and the learning only matures by sharing. I've explored more of myself only by giving it away to others; to teach is to reaffirm our own lessons. I am Julie's mentor, yet I have learnt a lot from her too… Thanks to ThoughtWorks and PeriFerry for providing us this platform!"
There was a question, when should we mentor others? I relate mentoring with sharing. As per my equation above, we should start sharing when we want to learn. See, Learning is a natural process from birth, we keep learning, so is the process of sharing. We never stop learning and we never stop sharing. Unknowingly we keep sharing, no matter we want to share it or not. Mentoring is all about share what we want to share and becoming better at it.
If we share anger with others, we become better at it,
If we share jelousy with othres, we become better at it,
if we share knowledge with others, we become better at it
if we share our value with others, we become bettter at it
if we share hate with others, we become better at it
if we share love with others, we become better at it…
There is a lot to learn and a lot to share, even this year 2020 is teaching us.
Happy Teacher's Day, to all my teachers for teaching me the values I carry today! Keep sharing!
This article is originally published at Medium
#general
#thoughtworks
#motivational
#takeaways
#mentor
#life
#experience
#learnings