Uncovering the human potential
- 7 minutes read
- 1340 words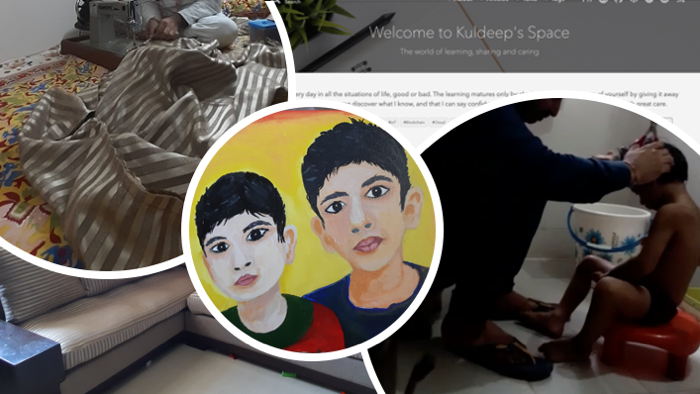 Covid19 has challenged the way work, I have penned down my earlier article to cover my workday and our shift toward new ways of working. Covid19 has impacted not just the way we work, but also our lives. All-day, we keep hearing how it is hitting hard on humanity and it has brought so much negativity around us.
Enough of negativity, let's uncover human potential to cop with it. In this article, I will cover how the ways of our regular life are shifting, and uncovering new human potentials to try out new things and performing our chores own our own. This shift is important for us, not just to fulfill the need, but also to keep our mind busy, active, and be positive toward life. The kind of human mind shift I am talking about here will also impact various related businesses, and they need to think thru again to survive.
Shifting from…
Let me start with before lockdown situation, where we were meeting and greeting physically. Starting from early Feb, this year, we have celebrated our 13th marriage anniversary the 1st anniversary of cousins, and few more family get-togethers.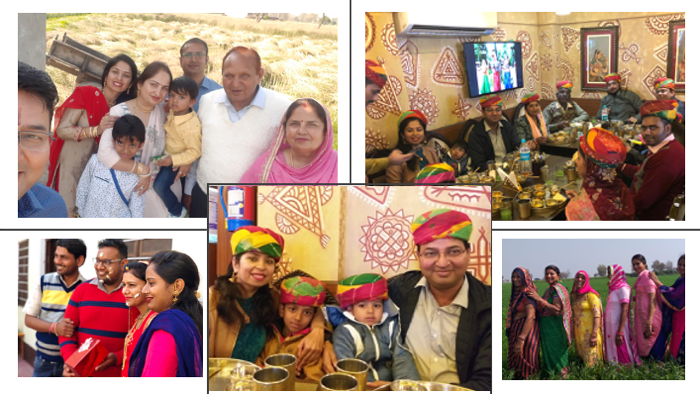 The party was organized by my cousin Mukesh Verma, who works with Shri Arjun Ram Meghwal, Minister of State, Govt Of India. At that time and the schools were finishing up their annuals days, and we joined those proud movements also.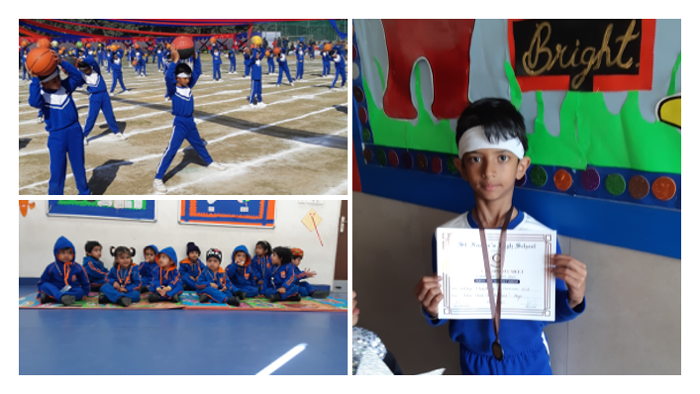 Then comes the alarming situation of Covid19, puts the whole country into lockdown, we are still in lockdown, even govt has relaxed the lockdown restrictions but looks like humanity will be in the lockdown of the Covid19 impact for the years to come.
Stories of Uncovering Human Potential
I will cover stories of me and my family members who have uncovered the unknown potentials in them or explored it more, and still emerging.
Story of Mukesh
Let me start with a story of the naughtiest child (then) of family, my cousin Mukesh Ostwal, who recently got placed in e-learning giant Byjus. He has some great people connect skills, and will do wonder at Job, nothing to surprise here. He surprised us with his painting skills during the COVID situation. Wall painting, stone painting, and paper painting, or whatever comes he can now paint, looks like his brushes are unstoppable.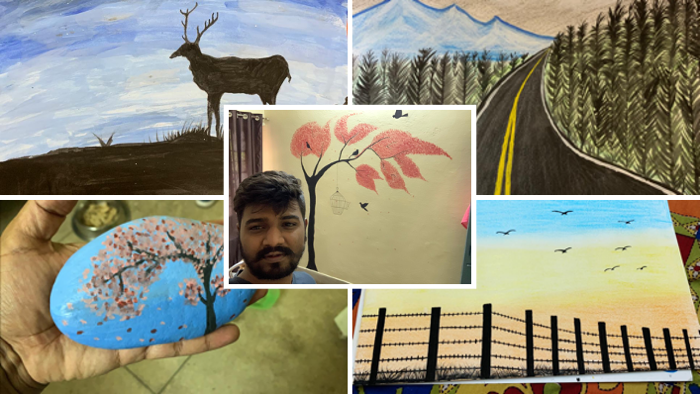 I feel he is an addict of Snapchat, Instagram, and more, and loves photography. I wish him all the best for the future.
Story of Mamta
The next story is about my sister Mamta, a teacher by profession at Kendriya Vidyalaya. She has surprised us by different dishes she prepared, from Momos to Coconut Sweets, to Panipuri at home. My brother-in-law Mr. Surender Kumar, who works in DMRC, is more available for the tasting and support (due to lockdown) and approved the dishes :). She is very good at painting, and this situation has given her a chance to explore more. Not just that, she has tried her tailoring skills and prepared some beautiful dresses for our angle Liesha (Kuku).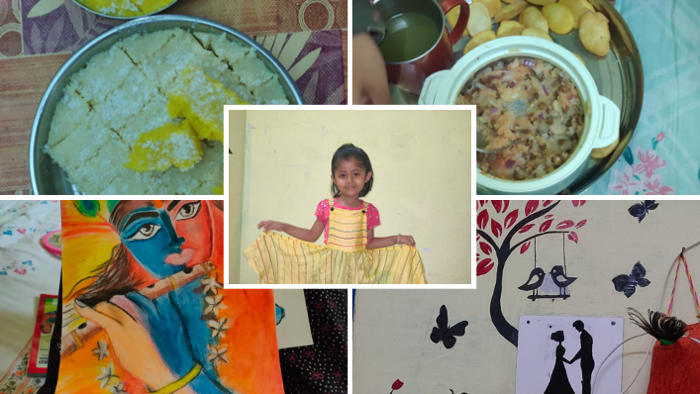 Welldone Mamta, keep it up! eager to try the dishes.
Story of Dr. Saroj Basniwal
This story is about my sister Dr. Saroj Basniwal, who is a medical officer, and on an active govt duty at this time. My brother-in-law Dr. Basant Basniwal who runs a clinic and is also great support at home. In addition to duty, they surprised us with all the different dishes and sweets they have prepared at home and the way the kids celebrated their anniversary, birthday, and other functions inhouse.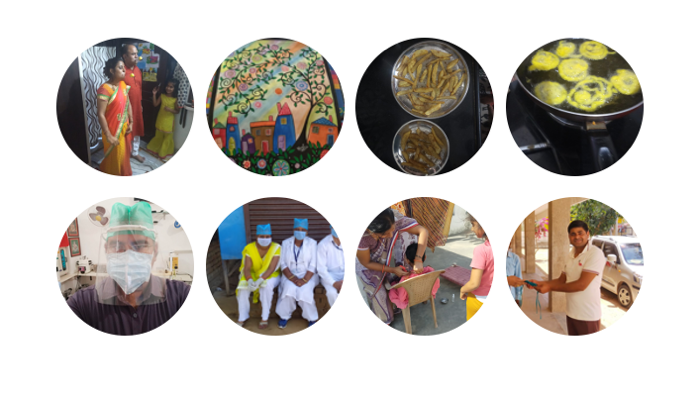 It looks like they will not buy a cake, fries, chips, and sweets (like Jelebies, Gulab Jamun, etc) from outside in future.
Saroj is also a great painter, and the same skills are coming in the kids. During this time, they became hairstylist for the kids, and also stitched and distributed masks.
Welldone doctors, keep serving the nation, stay safe.
Story of Ritu
My story will be in-completed without the story of my wife Ritu, she has been a great support to me. She is an engineer by education and assisting our kids comfortably in their school from home. Lakshya (8years) need lessor attention of her in video classes from school, but Lovyansh (3years) just started, she needs to do the handholding and is a teacher for all the subjects, dance, sports, art and overall development of the kids.
She prepares delicious and healthy food, but in this COVID time, she has uncovered the potential by preparing many dishes and sweets for which we used to go out, such as Pizza, Pao Bhaji, Burger, Tikki, Dosa, Uttapam, Jalebi, Gulabjamun, and Rasgulla.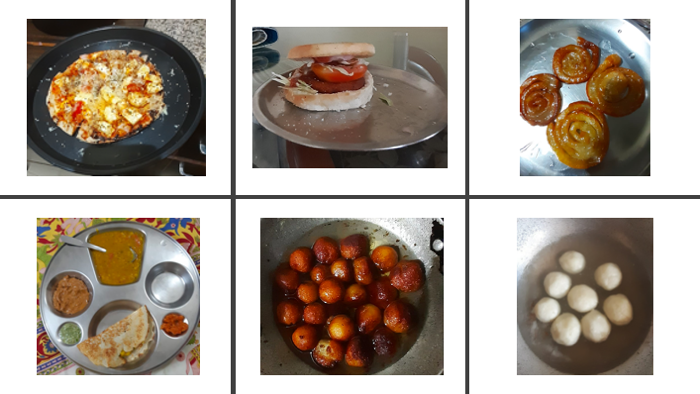 I must say, after tasting these homemade sweets, I realized what is a pure desi ghee sweets. Lakshya and Lovyansh have enjoyed the same a lot.
She becomes hair-stylist for me and did a hair cut and given a totally different style, my son Lakshya is happy for my new hairstyle :)
Thanks, Ritu, and it's more work for you but don't worry I am here to support you.
Story of Me (Kuldeep)
Let me cover my story now, you have already seen my work from the home story. Now is the time to tell my non-working story. Being part of such as talented family members, it motivates me to re-invent myself, and keep trying new things.
I used to be a painter in college days and did wall paintings, stage backdrop painting, floor painting, and more, but could not follow the habit since then. Last X-mas, I got a gift from my team drawing board, paint, and brushes to revive my habit, and I utilized the gift recently in this Covid19 time.
We have been waiting for getting the sofa cover-stitched for long, and you know what. I stitched the sofa cover, it was not that difficult, that I was thinking. I also stitched a few washable masks for family. I generally carry most of the repair and service at home on my own, be it servicing a fan, chimney, bicycle, and so on.
And as my sister, I become a hairstylist for my kids, and after getting feedback on the hairstyle, it looks like I will be the permanent hairstylist for the younger ones for long.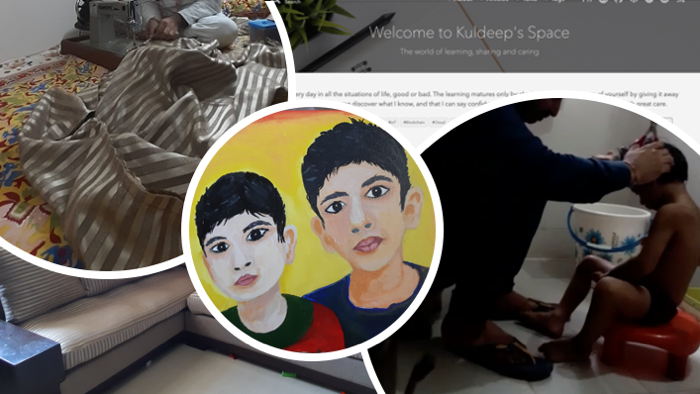 In this COVID time, I become a frequent writer and written around 10 articles and implemented my own blogging site — Kuldeep's Space (The world of learning, sharing and caring)
Story of Kids
How can kids stay behind, they follow the parents, looks like we are bringing up a few great artists.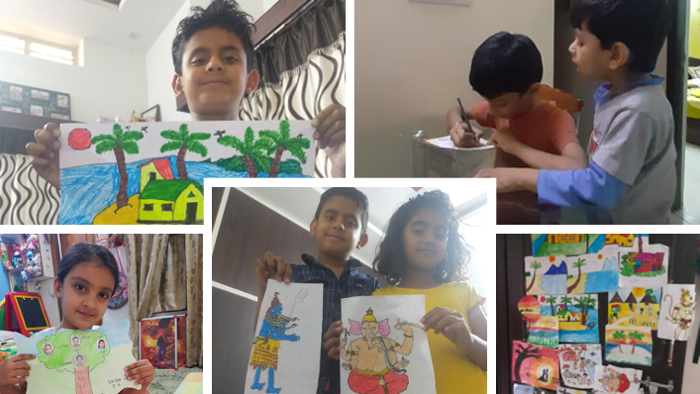 Story of Family
There are other members of the family who also who have uncovered and explored the potentials in this COVID time.
My cousin, Permila Verma, is servicing the government as a teacher and is a great artist, her paintings are marvelous. Sunita Verma, wife of my brother has also joined the hand with Permila. Sonu Ostwal, is an engineer by education, and a great cook, and artists, prepared a lovely cake for mother's day.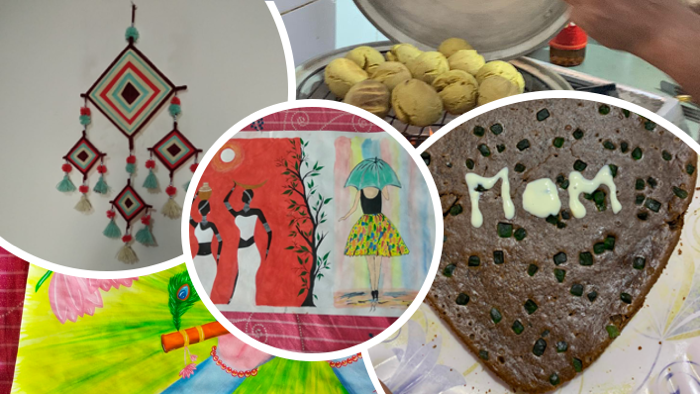 Gourav Ostwal, our forensic expert, supporting duty at the hospital, and attending virtual international conferences on forensic science. Brother-in-law, Madan Lal Arya, has shown gratitude towards people and stitched and distributed masks.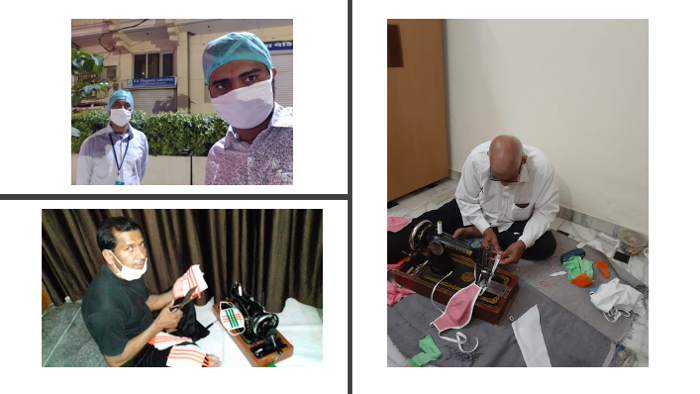 In the above picture, you also see my maternal grandfather, Shri. Bhagirath Verma stitching masks.
This article is incomplete if I don't include the story of my motivation, he is a retired Head Master, but still a teacher for us, teaching us lessons of life.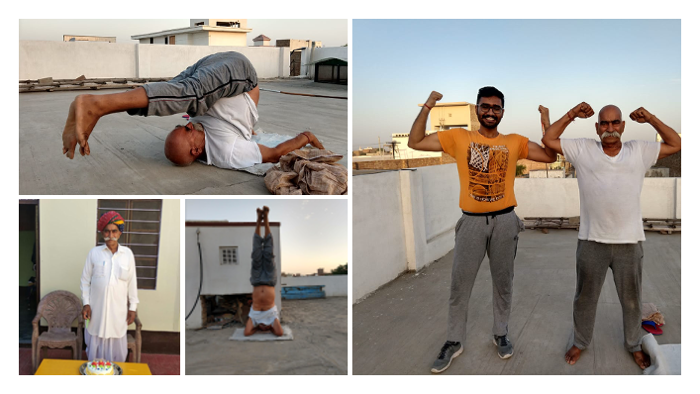 I try to follow him closely but there are many things only he can do at this age. Now you know the secret of my motivation level, whatever I do is nothing close to my grandfather.
I have spent my childhood with him and learned that there is always much more potential in us than we think.
So always trying, always improving.
With this note, I would like to complete the article and wish you all the best, keep fighting, keep trying, keep improving, you can do much more than what you think…
It is originally published at Medium
#general
#selfhelp
#covid19
#motivation
#life
#change
#motivational