2020 — The year of Change
- 6 minutes read
- 1276 words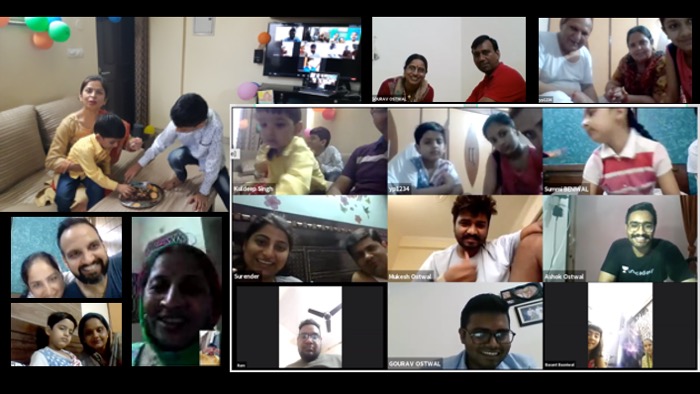 Change is the only constant, early we accept, early we get ready for the future. 2020 is a year of change, accept it, and change our lifestyle and get ready for the future.
I have been writing about the change in the past, right from accepting the change to change for good to have a purposeful and balanced life and uncover human potential in this Covid19 time.
Today, June 20, is my younger son Lovyansh's 3rd Birthday, and June month is really time to rejuvenate and celebrate for the kids when they are free from school. In India, this is the time, when families plan to go for holiday destinations with kids, and generally that the holiday destination is the maternal and paternal place where kids spend time with their grandparents. Especially families like mine where kids only get a chance to live with grandparents during this time. My wife Ritu, who has taken some break from work life and started enjoying the June month along with Kids at her parent's place, and I too, a bachelor's work-life here :) but this Covid19 has upset all of us. Neither my sisters and their kids could come to our place, nor we could go anywhere. We can not celebrate this birthday with family, was setting us back.
And today morning, I come across a really nice note — What if 2020 isn't canceled?
We all know that it can not be canceled. We have to accept it. This is definitely the year of change and it will be remembered for our whole life and after our life, no matter what we do.
So fine, then why not celebrate a birthday, as usual, we probably need to make some changes as per our comfort and can still go with it. This article is about the changes that helped us enjoy Lovyansh's birthday. So don't setback and go ahead and find the change that makes you happy, and make this year as the year to remember.
I feel satisfied when I get the following four senses when we plan a get-together. Getting together is really important for mental health and keeping social balance in life.
Sense of Preparation
The hosts generally plan a lot, invitations, return gifts, venue, decorations, and some events during the celebrations to entertain the guests, and executing all of these. We try our best as per budget and satisfaction. Now all this may not there, but there are so many things that we used to ignore. The small moments that we never thought could be enjoyable. Here are few snapshots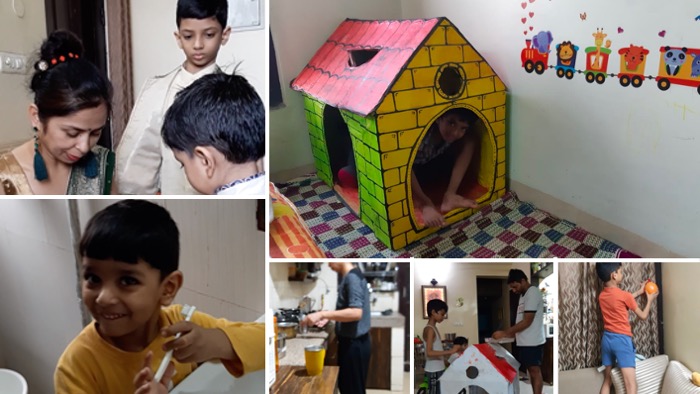 Decoration — become the home decorators, try all the creativity that you want, involve family members. My son Lakshya decorated the home, we observed the creativity of him. We handed over a hut that we prepared last week to Lovyansh.
Cooking — Ritu prepared cake, and delicious paw bhaji, and a few items as per kids' choices.
Getting ready — I got this duty to get kids bath and get them ready and myself ready. Cleal the area for the party. I was advised to stay in the party mood always and warned to stay away from office-related talks :)
Planning — Go with the flow, but still, it is better to plan a few things. We also did some planning for two types of events and some plays on songs.
Entertainment — Get ready to be a DJ, for playing songs, prepare laptops, PC and devices to the video calls.
Sense of Celebration
Getting a sense of celebration is important, it comes with multiple factors, such as dresses, mack-up, decorations, food, entrainment. When we are home, all these things look unnecessary. That's where the change comes.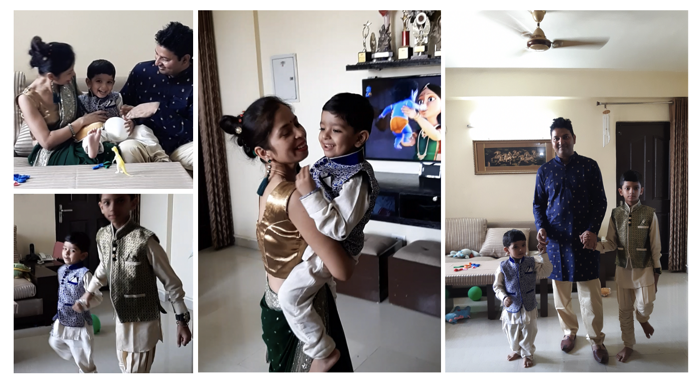 Get dressed well, be in the party mood. It may be good ideas to ask your guest to be in the party mood and dressed well.
Wait a moment, I said guest? yes. Virtual guests! Invite the guests to join the video call. Be as creative as possible here, all the guests may not be well equipped with video conferencing tools. We were not well prepared here, but kids took the full credit here. Plan some virtual games if that entertains the audience. Make sure you include everyone in all the conversations.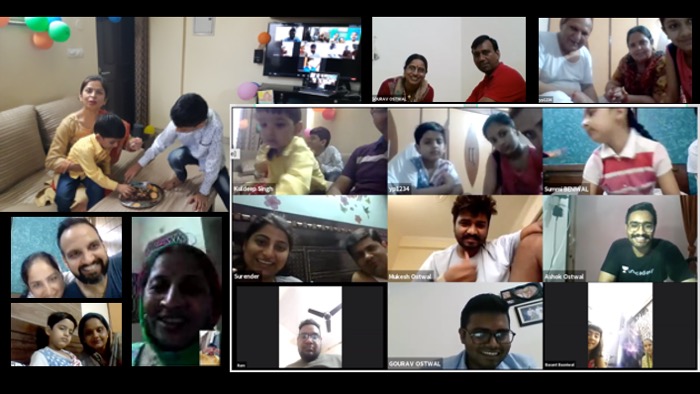 Do some videography, record every moment. Plan some plays with kids that you want to remember for years to come.
Of course, the cake cutting, with a full house with the family.
Sense of Togetherness
When we host a function, invites guests, and they happily join the function. It gives a great sense that we are not alone. We exchange gifts that symbolize a sense of giving and taking. But now, due to COVID, getting the physical presence of our loved one is hard.
The change is, belief in the virtual presence, let the loved one join on the video conference, and we can see the expressions, voice, just like when they come physically. It is definitely not the same as it is with a physical presence, but definitely it will boost the sense of togetherness. Try it out.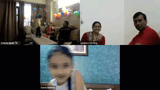 You may exchange the gifts by means of many digital ways, but in my opinion that also not desirable, exchange the expression and feeling may be treated at the give and take. Here our kids played well, they have shown handmade cards to each other and then shared them digitally, they also shared some email/WhatsApp messages.
In short, use technology to fulfill the sense of togetherness.
We followed the same on the next day, and wished my maternal grandfather and grandmother their 59th anniversary, on a video call. From last some time, the wishes were getting limited to what's app text wishes, this time we wanted to break the stereotype, and follow the video group call instead of audio or text wishes.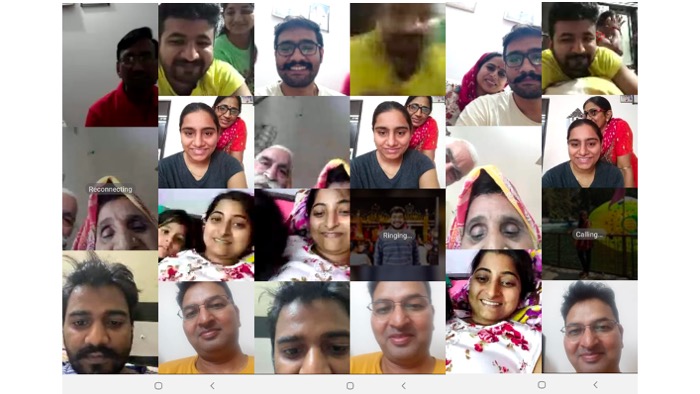 Keep video call as first preference, then the audio, and at last use text message. A text message is an asynchronous mode of communication, it should be used only when we don't expect a quick response, and let the receiver response as per their availability. However, in the above case, we did not want to keep waiting to get the blessings from our grandparents over a text message and chose to do a video call and feel the blessed.
Sense of Remembrance
Another aspect of hosting a get-together for friends and family is getting a sense of remembrance in the future. I am sure, many of us have gone through the flashback many times in this COVID19 time. By now, we might have looked at the videos, pictures of our past events, which we have not touched for years. We need to keep creating that sense of remembrance.
So record each and every moment, that's what I am doing now, even writing this article is an act of remembrance. I have edited family videos for the first time.
I would like to remember this birthday for years to come whenever 2020 will be remembered, this birthday must also be. Thank you all my loved ones for joining this celebration.
Conclusion
Don't let Covid19 stop the celebrations in life. Let's accept Covid19 in our life and change our ways, change our beliefs, and live a healthy happy life.
This 2020 is an important year of our life, we have to remember it for our life, let's make it the year of change and year to remember with good memories too.
I wish you all the best! stay healthy, stay happy.
This article is originally published at Medium
#general
#selfhelp
#covid19
#motivational
#life
#change