Speaker - Google DSC - How to get started with AR VR?
- 2 minutes read
- 338 words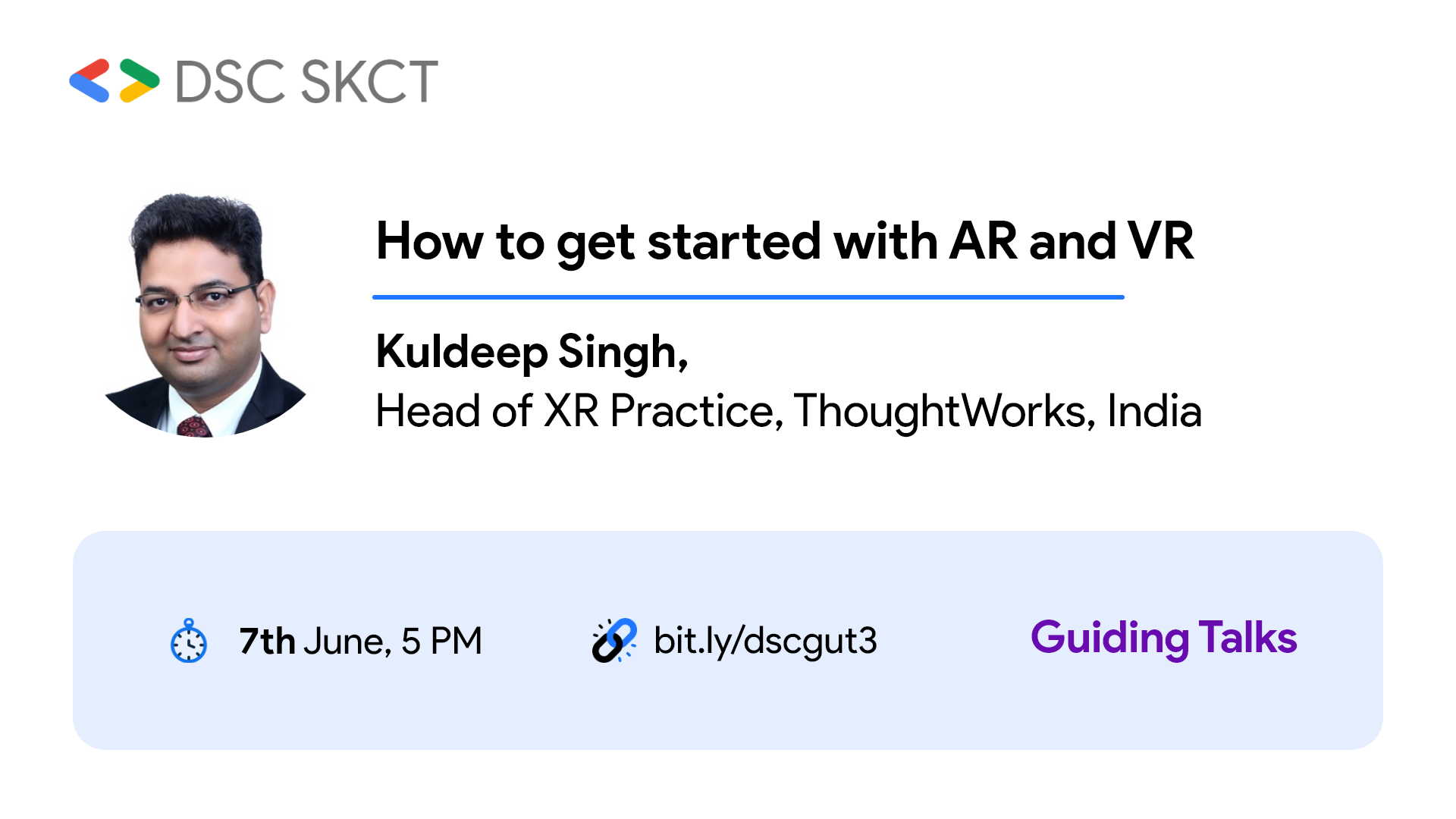 Conducted a live session at Google Developer Students Club of Sri Krishna College of Technology, Coimbatore, TN, India
Intro here
Live session, recording.
The talks is about
What is AR VR?
Why to start with AR VR?
How to start with AR VR?
Detailed Slides
Feedback
This session was really awesome and I have got lot of new knowledge about ar/vr and it's importance in solving real life problems - Kannan Subramanian
R.Manoj Aiyer It was really amazing session by Kuldeep sir… I had read abt AR VR before but sir had explained so well, that its much easy to recall … I'll surely try to write one blog in this week regarding this… For much better reach of this information…😊✌ - Komal Pal
The workshop was very useful Thanks R.Manoj Aiyer for organising it - Vishnu Varthan Rao
Kuldeep Singh Sir, I don't know about AR, VR before, but after attending your session, I came to know new things & opportunity about AR & VR. - Farhath Manaz
Kuldeep Singh The session was really useful and awesome Sir. Thanks to R.Manoj Aiyer for organising this session. I got lot of insights on AR/VR. I also got to know about the power of XR Technologies. - Midhun Raaj
Kuldeep Singh Sir The session is really amazing.I had got some knowledge about AR&VR.I Hope that it will be useful for me for my improvements.!. Thanks bro R.Manoj Aiyer for arranged this wonderful session. - Sethu Pathi
The session is really useful and amazing…I came to know what is AR and VR.. Thanks R.Manoj Aiyer for organizing such a amazing session ☺️ - Swethaa C
The session was really informative. I learnt a lot of new things. Thank you for organising such kind of session! - Subashree B
awesome session & it was very useful and informative. I got lot of resource to learn AR VR. thanks to R.Manoj Aiyer and Kuldeep Singh - Ranjithkumar B
#xr
#ar
#vr
#mr
#introduction
#fundamentals
#dsc
#google
#general
#talk
#speaker