SIGFOX - An Introduction
- 4 minutes read
- 764 words
SIGFOX is providing a communication solution dedicated to the Internet of Things
Dedicated to the IOT means:
Simplicity: No configuration, no pairing, no signaling
Autonomy: Very low energy consumption, allowing years of autonomy on battery without maintenance
Small messages: No large assets or multimedia, only small messages
It is a LPWA (Low-Power Wide-Area) network, currently operating in 20 countries in Europe, Americas and Asia/Pacific. Communications over the SIGFOX network are bi-directional: uplink from device & downlink to the device. Specifically,
Characteristics of SigFox Network
SigFox sets up antennas on towers (like a cell phone company), and receives data transmissions from devices like parking sensors or water meters.
These transmissions use frequencies that are unlicensed.
SigFox deploys Low-Power Wide Area Networks (LPWAN) that work in concert with hardware that manufacturers can integrate into their products.
Any device with integrated SigFox hardware can connect to the internet – in regions where a SigFox network has been deployed – without any external hardware, like a Wi-Fi or ZigBee router.
SigFox wireless systems send very small amounts of data (12 bytes) very slowly, at just 100 bits per second so it can reach farther distances with fewer base stations.
Up to 140 messages per object per day
Low Battery consumption as sensors can "go to sleep" when not transmitting data, consuming energy only when they need to.
The focus on low-power, low-bandwidth communications also makes the SigFox network relatively easy to deploy. While adding new SigFox node, reconfiguration to existing nodes is not required.
Data transportation becomes very long range (distances up to 40km in open field) and communication with buried, underground equipment becomes possible, all this being achieved with high reliability and minimal power consumption. Furthermore, the narrow throughput transmission combined with sophisticated signal processing provides effective protection against interference. This also ensures that the integrity of the data transmitted is respected.
This technology is a good fit for any application that needs to send small, infrequent bursts of data.
Frequencies
The SIGFOX network is relying on Ultra-Narrow Band(UNB) modulation, and operating in unlicensed sub-GHz frequency bands.
This protocol offers a great resistance to jamming & standard interferers, as well as a great capacity per receiving base stations SIGFOX complies with local regulations, adjusting central frequency, power output and duty cycles
SIGFOX Requirements
A SIGFOX-ready module or transceiver (SIGFOX solution) Ex- SI446x
A valid subscription. Development kits & evaluation boards come with an included one-year subscription
Be in a covered area (In SIGFOX Network).
SIGFOX Network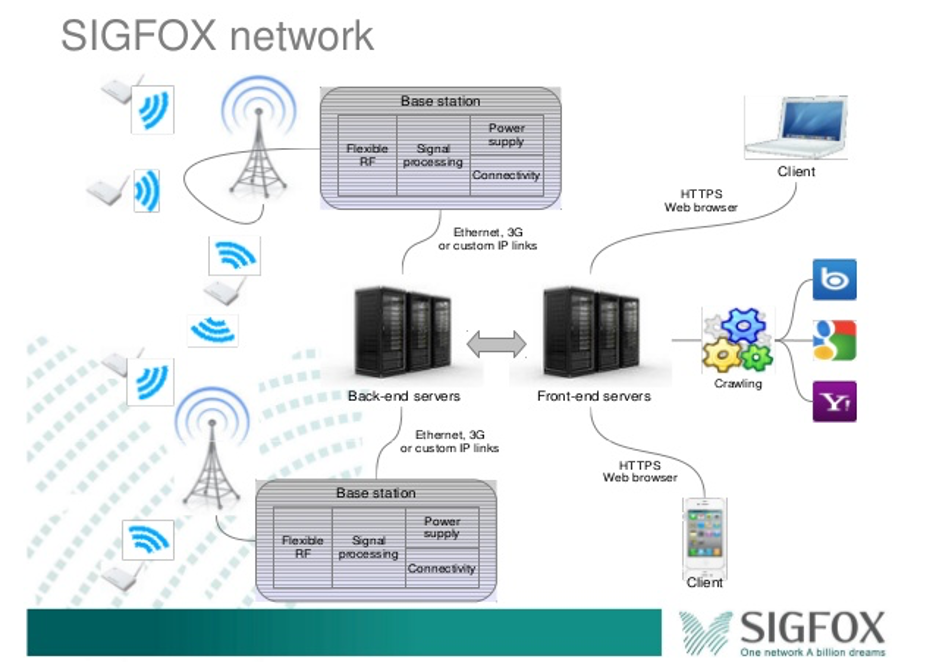 SIGFOX's network is designed around a hierarchical structure:
UNB modems communicate with base stations, or cells, covering large areas of several hundred square kilometers.
UNB - Ultra Narrow Band, technology uses free frequency radio bands (no license needed) to transmit data over a very narrow spectrum to and from connected objects.
Base stations route messages to server.
Servers check data integrity and route the messages to your information system
Messaging
Sending a message through SIGFOX –
There is no signaling, nor negotiation between a device and a receiving station.
The device decides when to send its message, picking up a pseudo-random frequency.
It's up to the network to detect the incoming messages, as well as validating & reduplicating them.
The message is then available in the SIGFOX cloud, and forwarded to any 3rd party cloud platform chosen by the user.
Security
Data security provided by SIGFOX –
Every message is signed, with information proper to the device (incl. a unique private key) and to the message itself.
This prevent spoofing, alteration or replay of genuine messages.
Encryption & scrambling of the data are supported, with the choice of the more appropriate solution up to the consumer.
Hardware solutions:
SIGFOX makes its IP available at no cost to silicon and module vendors. This strategy has encouraged leading silicon and module vendors to integrate SIGFOX in their existing assets, giving solution enablers a wide choice of very competitively priced components.
SIGFOX enables bi-directional as well as mono-directional communications and can co-exist with other communication protocols, both short and long range.
High energy consumption has been a major obstacle with regards to unleashing the potential of the Internet of Things, which is why one of the key elements of the SIGFOX strategy is to continue to push the boundaries for energy consumption lower and low.
SIGFOX Web Application
Web application provided by SIGFOX system will allow users to access application and perform their desired tasks for devices. There are number of REST end points exposed by the server.
This research was supported by my colleagues at IoT Center of Excellence and Nagarro and SIGFOX
#sigfox
#IOT
#platform
#introduction
#guide
#nagarro
#technology