Contributor - JavaOne - Rapid Modernization to Java8
- 1 minutes read
- 203 words
Presented At:
G. Venkat, Senior Vice President of Technology & Solutions, at Nagarro and I have spoken at the Oracle OpenWorld / JavaOne conference on Wednesday, October 1, 2014, form 10:00 – 11:00 a.m., Pacific Time, at Ballroom 6 in the Hilton San Francisco at Union Square.
I have supported Venkat and presented the JMod tool demo with him.
Here are some coverages -
https://www.nagarro.com/en/news-events/nagarro-has-java-8-covered-at-oracle-open-world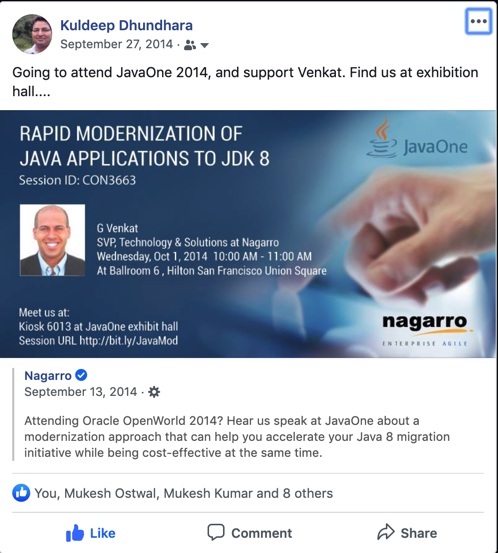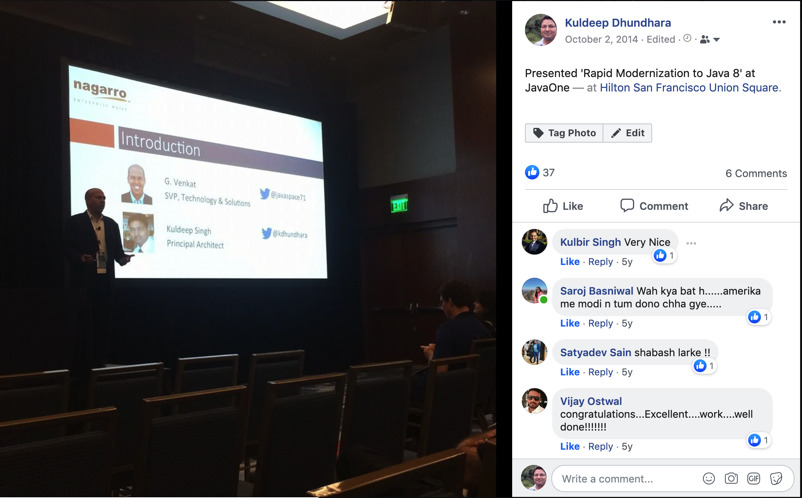 I have lead the Nagarro Stall and showcased the JMod demo to 300+ visitors.
The talk is about
Enterprises invest substantial resources in developing and maintaining a portfolio of Java applications to run business-critical processes. To stay competitive, enterprises must regularly enhance Java applications and migrate to newer JDK versions. Security and performance improvements as well as newer APIs and features make these upgrades compelling and necessary. However, the upgrade process is often complicated and unpredictable. This presentation shares how to
Build tools and automation to manage modernization of Java applications
Automate the identification of migration points within a Java application
Create repeatable, predictable modernization processes
Eliminate risk and maximize benefits
Video Here
More
With Venkat, we have also worked on Java Modernization Tools - https://www.nagarro.com/en/java-modernization

Later Venkat has published all the learning in his book - https://www.amazon.in/Rapid-Modernization-Java-Applications-Enterprise/dp/0071842039
#java
#java 8
#transformation
#javaone
#talk
#modernization
#oracle
#nagarro
#event