Takeaways from Lenovo Techworld India Edition
- 9 minutes read
- 1917 words
Lenovo, the global technology leader, hosted the India edition of its flagship event, Tech World , on March 16th, 2023. Industry leaders come together and peep into the future of smarter technology, that is empowering a changing world through innovative products, solutions, and witness technological solutions.
I get a chance to join the event, and meet and listen to the industry leaders, experience lenovo's innovative product line, and see breakthroughs in india shaping up. I am thrilled to hear about sustainability, responsible tech, diversity and inclusion, which are close to my heart and to Thoughtworks. Proud to see people trying ThinkReality XR Products that I am associated with.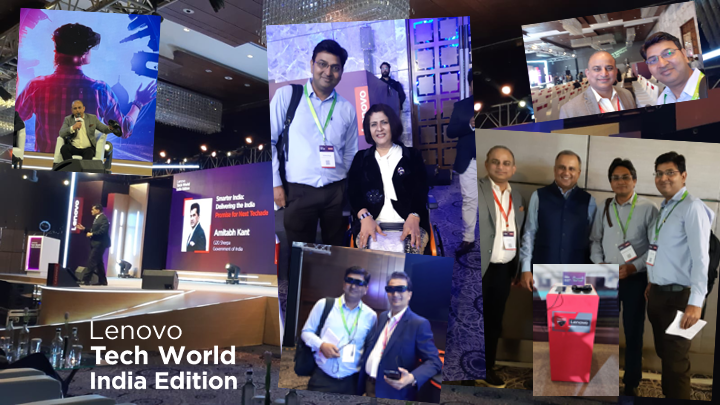 I am summarizing my takeaway from the event in this article.
Future Trends and India Delivering
Event started with key-notes by Shailendra Katyal, MD, Lenovo India, on transforming India through smarter technology. Amar Babu, President Asia Pacific Lenovo took the dialog further by covering how smarter technology is empowering a changing world. The tech trends that are shaping the future.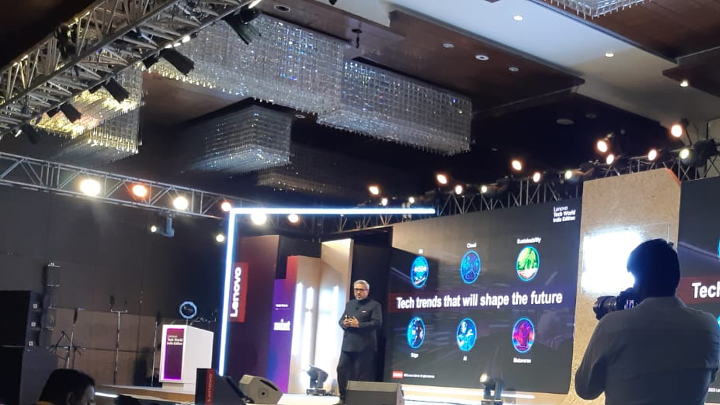 He explained how lenovo is emerging in the non-PC business as well. Lenovo is focused on sustainable innovation, such as using recyclable materials for making parts and packaging of them, reusing the parts as much as possible. India would be a factory for the world, and play a key role in future tech buildup.
The India dialogs were well continued by Mr. Amitabh Kant, who is G20 Sherpa and x-CEO of NITI Aayog (National Institution for Transforming India)- the Govt of India's premier policy Think Tank & prior to that Secretary, Department of Industrial Policy & Promotion. He explains how it is delivering promises for the next Techade. He explained how important the people's data is for bringing innovation to the grass route. Era of domination of innovation only by Big tech is fading, and more and more startup and ecosystem is growing.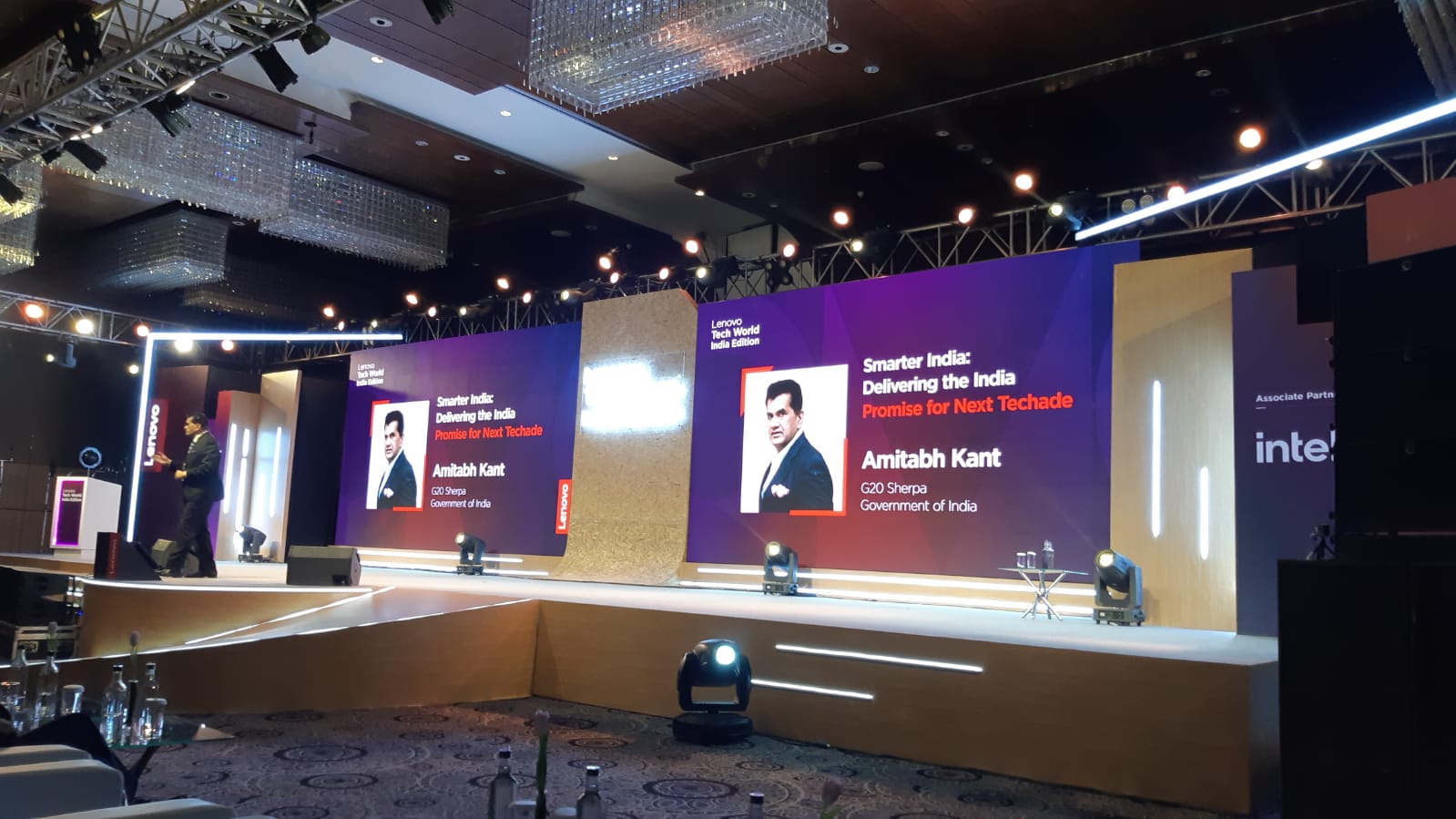 India has focused on building India Stack, platform for building solutions, backed by 1.3B identities, open and trusted access to makers. Stack mushroomed a number of startups and enterprises to build solutions and compete to provide best in class services to the citizens. It enabled 2.2bn people to get vaccinated and all paperless, 500m insurances cashless. It enabled initiatives like Digilocker - digital document store, Diksha - national digital infrastructure for teachers, and educators, Swayam - self service portal to provide best teaching resources to all. India has implemented unparallel scale of FastTag implementation, going Camera Aided GPS based toll collection soon.
India's 98000 startups with 110 unicorns are already telling India's story of innovation. What India is building is not just for 1.4B people of India, but 5B people of the world who will travel poor to middle class journey.
"Mr Kant, focused on going green, and going digitally green, and explained the number of initiatives India is betting upon. He said without this Earth may survive but humans may become extinct"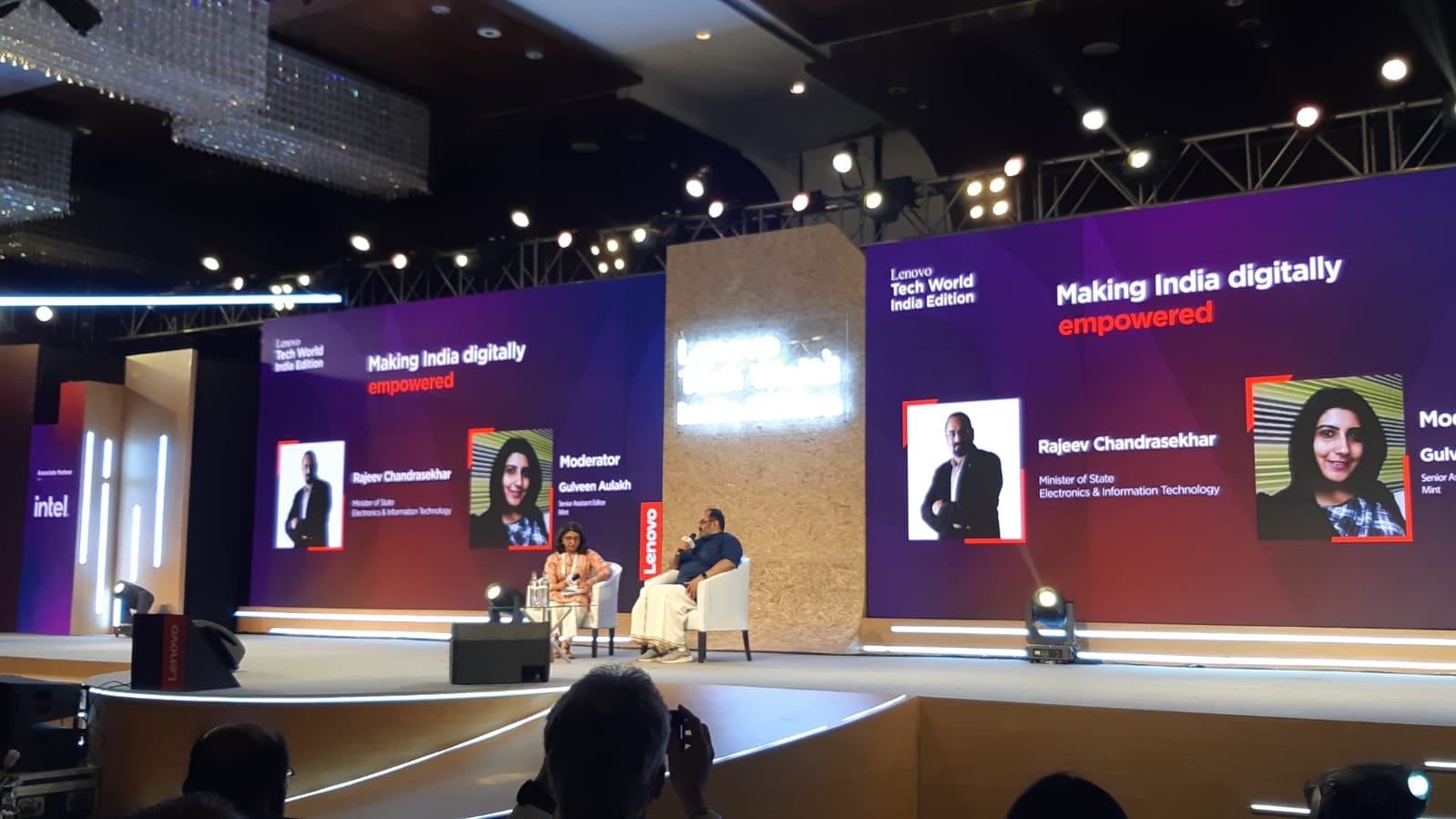 Rajeev Chandrasekhar, Minister of State - Information Technology, Government of India, has talked about making India digitally empowered. He explained how India's financial sector is still sustainable and more prudent, when asked about SVP bank fallout in the US.
India's way of innovation is already considered open-source based, resource constraints, cost and so on. India is now focusing more on research and analysis. Proud to hear how we enable us and the world.
Another panel of Sumir Bhatia (Presidern - ISG, Lenovo APAC), Santosh Vishwanathan (MD, Intel) and Prateek Pashine - President, Reliance Jio continued the discussion of the innovations defined growth in the 5G era.
New way of working
Pandemic induced the new normal in the way of working, for the technology industry remote or distributed working was not new, but it has been accepted widely that to be a new normal, and enabled it with more with tech. At times, it was considered the only way of future working, and it was well said that there will not be a return to previous normal. But in this so-called post-pandemic era, is the normal shifting again? Back to the office? Are we taking a U-turn?
A panel discussed on Changing Paradigm with New IT in Modern Workplace has well covered these questions, by Diwa Dayal - MD, Sentinel One and Harnath Babu - CIO, KPMG, and moderated by Shalil Gupta - Mint/VC Circle. The topic is so interesting to me, and I have been exploring it with Async-Agile/Async-First pioneer Sumeet Moghe, one can follow his work at asyncagline.org. There has been a drastic difference in people who joined during the pandemic, and it is said that they don't speak the same language, and don't understand the culture of organization etc, and companies are pushing to go back to office. It reminded me of Sumeet's article "No, that's not culture".
Biggest things to consider when we compare pre and post pandemic time are changes in 3Ws ; Work, Workplace and Workforce. So if these 3W are changed in multiple ways, there is no point going back to the previous normal. There will be a mix of things continuing and location and time independent ways of work continue to evolve.
While there will be uncertaining and challenges in this way of working, like how much physical to digital or digital to physical transformation is good, moon-lighting, security, privacy and more..
Mr. Dayal talked about good software being built but not secure ones, and security is like a cat and mouse game. With growing tech adoption, we are also exposed to more vulnerabilities, people now have easy to open tools that can hack systems in minutes. AI tools can also help exploit the security, and at the same time AI can find solutions much before they can happen.
Metaverse is not dying, rather it is evolving further
Metaverse is the hot topic these days, and in recent macroeconomic situations the first thing being discussed is "Is metaverse dying or died, after so much hype". The panel discussion on "Reinventing Customer Experiences through Metaverse" covered these questions and concerns quite well.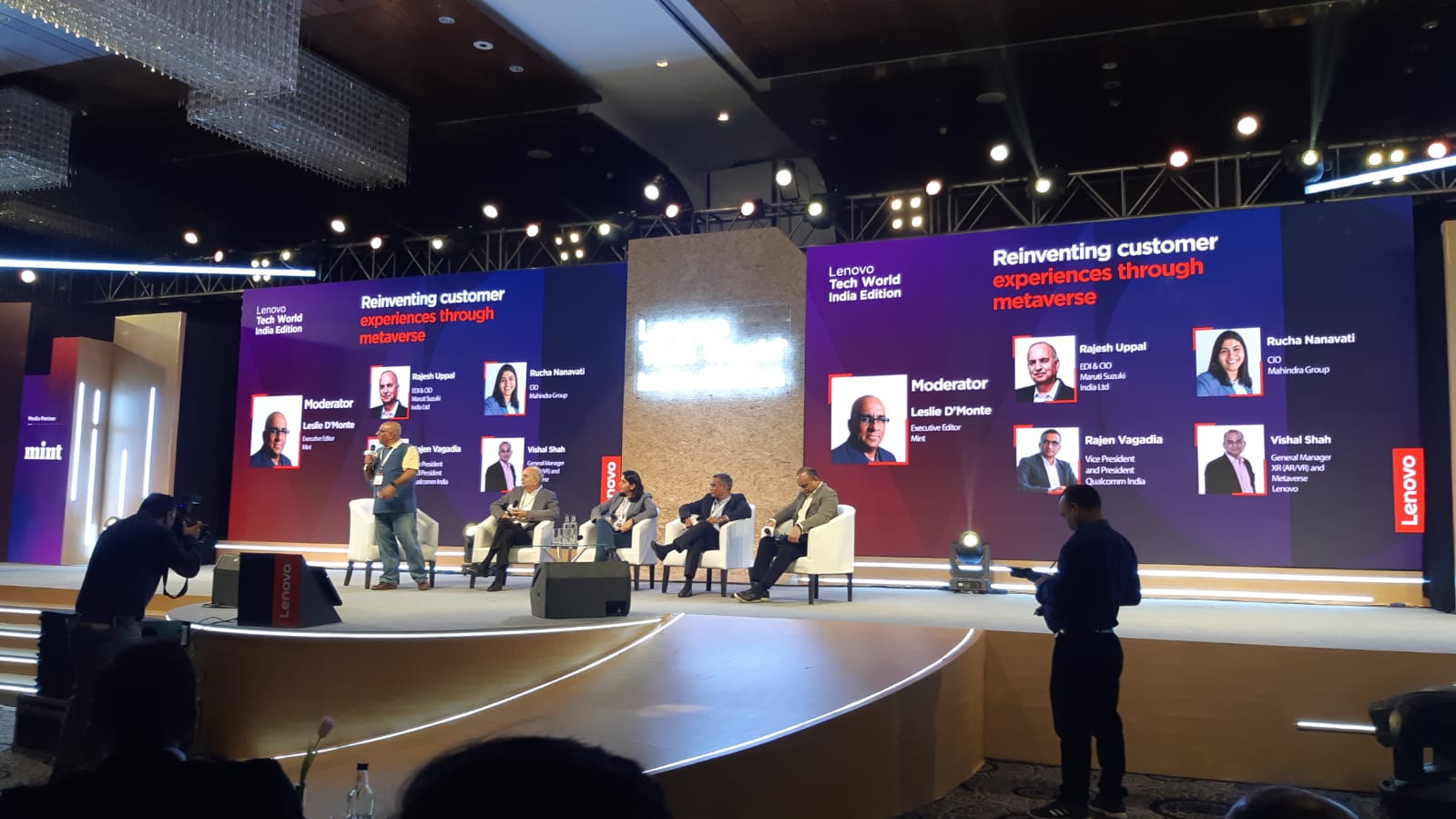 Mr. Rajesh Uppal (Executive Director & CIO, Maruti Suzuki India Ltd), talked about Maruti Suzuki, seeing tech future in metaverse for marketing and customer experience enhancement, training and on-boarding, and shaping up employee experiences, shop floor visualization. He talked about Nexaverse and Arenaverse from Maruti Suzuki. It was well shown how a customer can join the metaverse and take a test drive with dealers explaining the car features, they can well experience rain sensor, airbag features, other sensor, fog lights, or other safety features which normally are not easy to experience.
Mr. Uppal explained that at this stage motivation for metaverse build up is a Wow factor! however he feels the benefit and ROI it brings on table would be hard to ignore in future.
Similarly Rucha Nanavati(CIO, Mahindra Group) talked about techMverse, and showcased how they launched the XUV400 car virtually. Rajen Vagadia (VP and President, Qualcomm India & SAARC), talked about the need of an open ecosystem and interoperability for metaverse adaption, and their plan for OpenXR based Snapdragon Spaces. He shared that XR devices shaping up faster, and judging metaverse state at this stage is too early.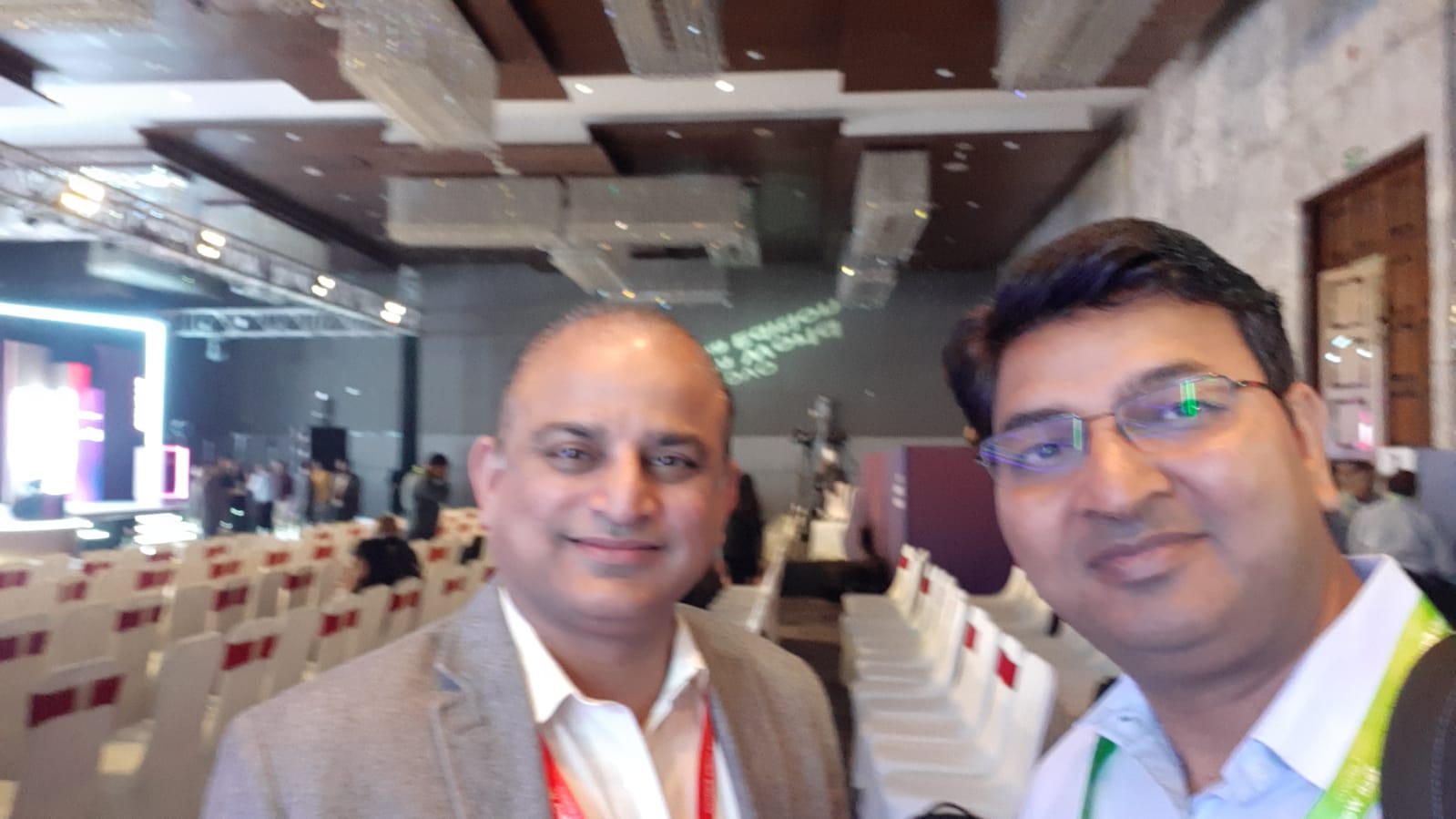 It was a pleasure meeting Mr. Vishal Shah (General Manager, XR (AR/VR) and Metaverse, Lenovo) in person. He explains the metaverse as "Internet in 3D", and talks about Lenovo's plan for catering the enterprise metaverse by managing complexity of 3D computing, 3D content by the ThinkReality XR products. He also shared that lenovo is launching ThinkReality VRX device soon in india. I got a chance to discuss various synergies between us, and had an interesting conversation on ONDC, and how it may be the next disruptions in India's digital commerce, after UPI. Vishal shared how lenovo is building a partner ecosystem for XR, and looking at India's growing startup ecosystem, the next metaverse unicorn would be from India.
Show and Tell, Meet and Greet
The showcase area was full of Lenovo's upcoming products from PCs, Gaming Laptop, Yoga, Foldable devices to XR devices like ThinkReality A3 and ThinkReality VRX devices. Nice meeting with Martand Srivastava and Jose Zacharia who have showcased number Enterprise XR use cases at the XR booth.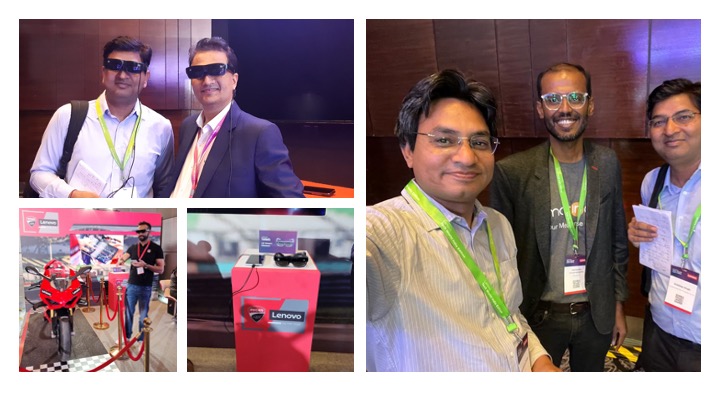 There were few partner solutions as well. For example EdTech solutions from PhiBonacci Solutions being presented by Ravindra Dubey, who has shown their interesting demo that redefines the way we look at books, he shared how they have built assets over the years that can make any education material valuable and interesting.
Also met a few more friends there who have traveled to a good depth in XR and metaverse technologies. Hemanth Satyanarayana, Founder and CEO at Imaginate | Collaborate in XR, shared how they recently turned the Vizag experience into Metaverse. I must say the metaverse experience is better than my physical visit to the place. I have never imagined seeing the city in this way. Interesting thing Hemanth shared is that they have turned this whole experience into reality in just a few days after scanning from drones and bringing it to their Atom Product.
Sachidanand Swami, Founder Invoxel Technologies, has enhanced experiences at various museums in india. He shared how he recently showcased their XR solution to Hon'ble President of India Smt. Droupadi Murmu and other Government of India officials at Digital Pavilion in the "Rashtriya Sanskriti Mahotsav" concluded recently.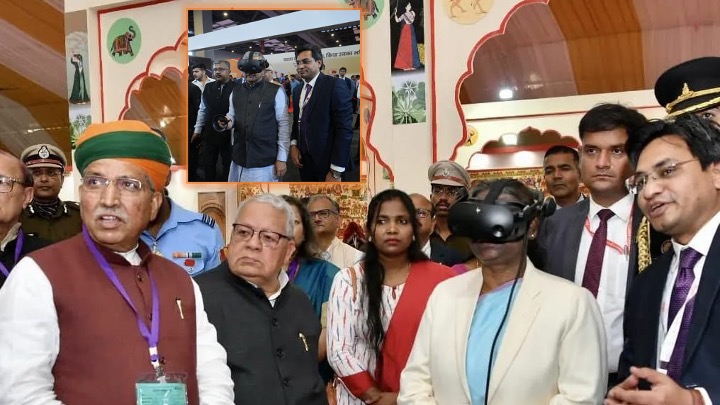 We met a number of other industry leaders and enthusiasts over different social events, and delicious lunch and dinner.
Diversity and Inclusion in Tech
Last but not the least, the topic Diversity and Inclusion has become an important part of me after joining Thoughtworks. I witnessed an eye opening panel discussion "Fostering Inclusiveness in Technology" by none other than Deepa Malik, the first women paralympian of India. She explains how tech has brought in Equity in her life as a sports person and in general, due to technology she now feels safer, and comfortable at home, she doesn't need to move to the door every time it rang, she just sees the person on her phone and opens the door from phone. Control fan from remote. She used technology to measure Heartbeat, and other vital information while practicing, she shared how they used tech with athletes and increased India's performance at paralympics. I have never imagined that a nice to have tech for me could be that useful for someone.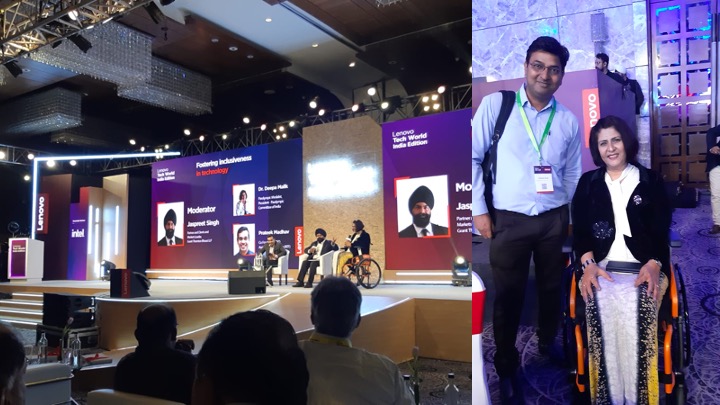 I interacted with Deepa and shared how do we maintain D&I at thoughtworks, and talked about Wapsi, WomenInTech, NetworkOfWomen and other initiatives to improve representation of women and minority groups. Thoughtworks has been recognized in multiple forms for its effort. Deepa sincerely appreciated the effort being put into it by us.
Other panelist Prateek Madhav - Co Founder & CEO AssisTech Foundation (ATF), explained that around 1bn people are there with some kind of disability. Number in India is not well known, maybe 70m people. He also focused on disability that is non-visual, and hard to recognize. Eg. Learning disabilities, ability to work is reducing after pandamic, but is not being recognized. If we see it in other ways 5-7% of GDP is lying on table if we don't include specially abled in the solutions we are building. This number could easily be the 3rd largest economy in itself, it is already telling the story why inclusion is so important for businesses.
"In the closing remark Deepa asks makers, solutions designers to think of D&I- first solutions, and make them accessible. Digital means Digit-All, build Digit-All solution, and work on Digit-All transformation."
#xr
#ar
#vr
#mr
#thoughtworks
#event
#conference
#sustainability
#metaverse
#lenovo
#ai
#startup
#takeaways
#learnings
#5G
#async-first
#async-agile
#work from home