thinkuldeep.com | 100 Articles and 50 Events
- 6 minutes read
- 1171 words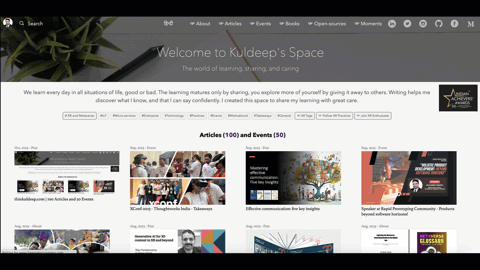 I've reached a milestone: 100 articles and 50 events at thinkuldeep.com. This experience has improved my writing, boosted my confidence, and fueled my passion for self-expression. I'm thankful to readers, authors, speakers, and mentors who inspired me.
I want to share common obstacles I overcame, hoping to inspire others on their creative journeys.
1. I am not a great writer/speaker, I can't express well
Blocker#1 is doubting our abilities, it is natural when we haven't explored our potential. The phrase "I am not" can be a blocker; we often underestimate ourselves. As I mention in my post on uncovering human potential, there's untapped potential within us.
To improve self-expression, start with writing. It offers time for reflection, as discussed in my article on effective communication.
Here are some compelling reasons why writing can be a game-changer:
A learning opportunity: Writing serves as a remarkable tool for learning and self-improvement.
Sharing your insights: It's a powerful means of sharing your thoughts and experiences with a broader audience.
Connecting with others: Writing fosters connections with people who resonate with your words.
Building your brand: It's a cornerstone for building a personal brand and showcasing your expertise.
Expanding your network: Writing can help you expand your professional network.
Advancing your career: It can be a catalyst for career growth and personal development.
Entrepreneurial ventures: For entrepreneurs, it's a valuable asset for business growth.
Enhancing life: Ultimately, it contributes to building a more fulfilling life.
Most professionals have basic reading, writing, and speaking skills. Start by jotting down your thoughts—no need for a novel. It's like responding to emails or general conversation, a habit discussed in my post on the importance of habits.
Reframe your mindset with, "I am a writer or a speaker, and I can express well." This belief makes writing and expressing a natural part of your journey.
2. What I know is trivial to share with others.
Blocker 2 is a common hurdle for many aspiring writers and speakers: the belief that what they know is too trivial to share with others. It's essential to recognize that this is a limiting mindset that can hold you back from realizing your potential.
Here are some strategies to overcome this blocker:
Value your perspective: Your experiences, even seemingly ordinary, are unique and valuable to others.
Find your niche: Focus on a specific area of expertise to boost confidence in your knowledge. For example, I started with mostly on technology topics, such as java, xr/metaverse, iot.
Be your audience: What's common to you can be new and valuable to your audience. Better you start with you yourself as audience
Share personal stories: Humanize your content by sharing your practical experiences. I shared about changes, takeaways, and mythoughtworkings that become motivational.
Collaborate and learn: Engage with peers to gain confidence and fresh insights. I contributed collaborated with community as speaker, mentor, judge at various hackathon, guest lecture.
Keep learning: Continuous learning enhances what you have to share.
Seek feedback: Start small, gather feedback, and refine your message.
Embrace vulnerability: Sharing your challenges can resonate with others.
Shift mindset: Recognize that your insights can impact others positively.
Set realistic goals: Begin with achievable goals and build your confidence.
Remember, the world is full of people eager to learn, grow, and connect. By overcoming the belief that your knowledge is trivial, you open the door to sharing your unique perspective and making a positive impact on others. Your insights, experiences, and wisdom have value, and it's worth sharing them with the world.
3. I don't have time
Blocker 3, the belief that you don't have time, is a challenge many of us face in our busy lives. However, it's crucial to recognize that time management is about making choices and setting priorities. Here's how you can overcome this blocker:
Prioritize passion: Allocate time for what matters to you, just as you would for work.
Identify time wasters: Cut down on unproductive habits to free up valuable hours.
Delegate and outsource: Hand off tasks effectively when possible to focus on creativity.
Plan effectively: Organize your day for efficiency and reduced stress.
Prevent, don't firefight: Proactive problem-solving saves time.
Focus on what matters: Distinguish important from urgent tasks.
Improve communication: Clearer communication reduces wasted time.
Time blocking: Allocate dedicated time for focused and deep work.
Reflect and adjust: Regularly assess and refine your schedule.
Efficient time management helps you pursue your creative passions effectively. It's about maximizing the time you have, not creating more of it.
4. I have many ideas but where to start
Blocker 4: Having many ideas but not knowing where to start can be overwhelming. Here are strategies to overcome it:
Create a playground: Establish a space for experimentation, I setup thinkuldeep.com as my playground.
Build on small foundations: Start small and expand on your initial ideas gradually.
Begin with a small audience: Start with a supportive group before targeting a larger audience.
Start a blog, YouTube channel, or a podcast: Choose a medium you're comfortable with and share your ideas.
Don't overthink publicity: Don't worry too much about how your work will be received initially.
Submit your work: Share your content on other platforms for publishing/speaking at to reach a broader audience.
Embrace imperfection: Accept that early work may not be perfect; it's a stepping stone.
Stay consistent: Maintain regular content creation to see gradual progress.
Remember, every journey begins with a single step. Start small and build your ideas into meaningful creations over time.
5. I Don't like reading or listening, but want to quickly learn writing and speaking.
While there are no shortcuts to mastering writing and speaking, you must be a good reader and listener first! I have read 30+ books and listen to many in recent years to make this creative
You can make the process more engaging and efficient:
Choose your interests: Focus on topics that genuinely interest you.
Take notes: Capture key points and ideas to reinforce learning.
Reflect and summarize: Think about what you've learned and summarize it as takeaways.
Practice regularly: Write and speak often to build your skills.
Explore different styles: Analyze and experiment with diverse writing and speaking styles.
Stay patient and persistent: Growth takes time and effort; don't give up.
Leverage technology: In GenAI era don't worry about grammar, vocabulary and pronunciation, but don't overuse them, keep your creativity.
Stay informed: Keep up with industry trends and best practices.
Remember, it's a journey worth taking for better communication skills.
In this article, I reflect on my journey of self-expression through writing and speaking. I celebrate the achievement of 100 articles and 50 events on my platform,thinkuldeep.com. Throughout this journey, I have grown in confidence and skill, thanks to the support of my audience and mentors. I share insights on overcoming common creative obstacles and aim to inspire others on similar paths.
Next I am on a path to become a professional author, working on a book Exploring the Metaverse : Redefining reality in the digital age, which is soon to become a reality.
#communication
#motivational
#consulting
#blogs
#learnings
#takeaways
#talks
#tips
#writing
#reading
#listening
#general
#selfhelp
#change
#habit
#leadership