Judge at HackBMU 4.0
- 2 minutes read
- 245 words
BML Munjal University,a Hero group initiative, is organizing a 4th edition Hackathon, named HackBMU 4.0. It is a hackathon focused on promoting innovation, diversity and networking among all future hackers. We will be hosting upcoming engineers and developers from all over the World to create mobile, web, and hardware hacks for an intense session.
HackBMU seeks to provide a welcoming and supportive environment to all participants to develop their skills, regardless of their background. Last year and the year before, HackBMU garnered huge attention with 30+ teams from around the country. This year, I will join the event as a Judge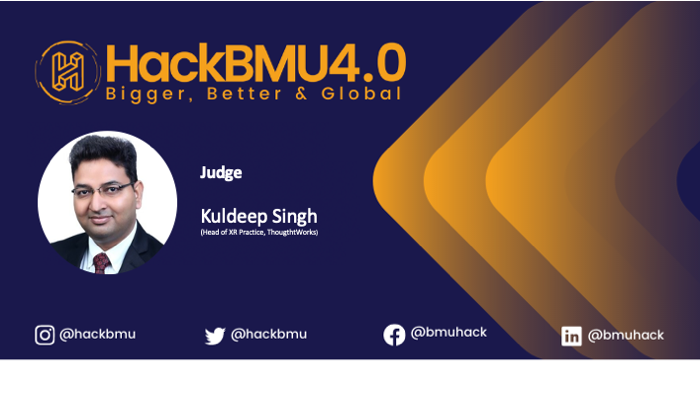 23th Apr 2021 - 25th Apr 2021
Closing ceremony
Experience and Conclusion
It was a well organized event, Kudos to organising team. We have seen participation from schools and colleges on very interesting topics. The young minds were solving today's problems, and building futuristic solutions.
Virtual trainer for Gym and Yoga, an app that track the postures and correct you.
Tracker for abled people integrated with alerts and geo-fencing, GPS, SOS
Social networks for building hackathon culture, and platform manage college events
Service aggregator for needie one in Covid time
Covid portal with authentic information with bot
Disease prediction right from medical reports and x-rays
Waste segregation social profiling
Cyrpo currency payment gateways
Economical artificial arm for physical abled one
Selecting top 3 teams from 800 participants and 100s of ideas was not an easy.
#iot
#ai
#xr
#ar
#mentor
#judge
#event
#university
#hackathon