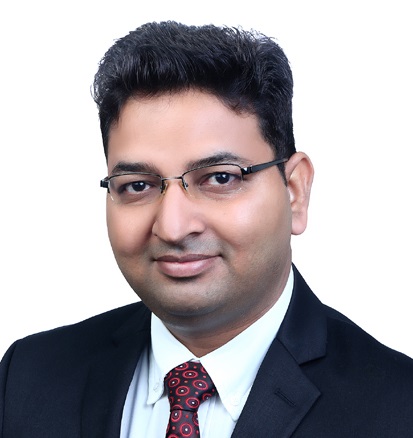 Kuldeep has built his career empowering businesses with the Tech@Core approach. He has incubated IoT and AR/VR Centres of Excellence with a strong focus on building development practices such as CICD, TDD, automation testing and XP around new technologies.
Kuldeep has developed innovative solutions that impact effectiveness and efficiency across domains, right from manufacturing to aviation, commodity trading and more. Kuldeep also invests time into evangelizing concepts like connected worker, installation assistant, remote expert, indoor positioning and digital twin, using smart glasses, IoT, blockchain and ARVR technologies within the CXO circles.
He has led several complex data projects in estimations, forecasting and optimization and has also designed highly scalable, cloud-native and microservices based architectures.
He is currently associated with Thoughtworks, as an Engineering Director, and Head of XR Practice in India. He has worked with Nagarro, and contributed there for 13 years at various roles from developer to Director, Technology. Apart from the professional achievements over these years, he has contributed to the society by sharing his knowledge and experience with 30k+ people though 40+ events and 100+ articles on technology, leadership and motivation. Some of his articles got covered by Thoughtworks Insights, Economics Times, Tech.de, industry4o.com and Analytics India. He also spends his time as Guest lecturer, Speaker , Judge and Mentor at various universities and initiatives by Smart India Hackathon, NASSCOM, AIEEE. He has shared life-changing mentoring experience with PeriFerry, a trans community, He is also advisor for young entrepreneurs, and a volunteer at various non-profit initiatives. He is also mentor at social communities such as Dream Mentor, tealfeed.com.
Kuldeep holds a B.Tech (Hons) in Computer Science and Engineering from National Institute of Technology, Kurukshetra. He has completed schooling from a small town in Rajasthan. He has lead various student committee initiatives for National Service Scheme, Fine Arts Club and Science fair. His good foundation in arts and science from childhood is making him successful evangelist the space he is working in today.
Curious by nature, Kuldeep is a tinkerer. For instance, he fixes most of his home electronics himself. Amazed by the way he juggles with his gadgets, his kids Lakshya and Lovyansh think of him as their very own Tony Stark. His wife Ritu Beniwal, who is also an engineer, acts as a backbone and encourage him to follow his passion. He always follows guidance from his teacher and grandfather that "We can do much more than what we think".
He has been awarded as India Achievers' Award 2022.
Contacts
📞 +91 9911921195 📧 Personal 📧 Official
Communities
☞ Follow XR Practices ☞ Join XR Enthusiasts ☞ Dream Mentor ☞ PeriFerry Mentor ☞ tealfeed.com ☞ industry4o

Quotes
When you have confusion on how to start, then don't wait, just start - Kuldeep
Leadership is a feeling, learn to lead ownself, and be your own leader - Kuldeep
You can do much more than what you think - Kuldeep
Winning an argument is not really a Winning - Kuldeep
We explore more of us by giving it away to others- Kuldeep
Featured Tags
#Thoughtworks #Nagarro #XR (ARVR) #IoT #Metaverse #Enterprise #Technology #Practices #Events #Motivational #Takeaways #General
All Tags
Recommendations
Kuldeep is a great leader in the XR space. He is extremely knowledgeable throughout the entire stack. It had been a great pleasure and privilege working together and I definitely look forward to collaborating in the future!.
- Mayan Shay May-Raz - Sr Product Manager, Commercial AR/VR at Lenovo
Within a highly complex project creating a simulation environment for yield management that I led from the customer side, Kuldeep was responsible for the IT architecture within the Nagarro team. His deep and broad knowledge on architecture ensured a high quality software and contributed considerably to making the project a great success. His ability to keep calm even in high pressure situations and his communication skills make working with him a both valuable and joyful experience.
- Dr. Tobias Schröder - Head of IT Development, Lufthansa
I have known Kuldeep for 3 years or so. Very impressed with his hands-on approach to learn technology. He created cutting-edge proof-of-concepts using technology which were at a very early stage. His ability to learn new tech topics like Assisted Reality, IoT is very impressive. An asset to have in any team.
- Kanchan Ray - CTO, Nagarro
I have worked with Kuldeep for couple of years on a project. Kuldeep is very hands-on and has deep knowledge of technology. He has gained a lot of confidence over the years and comes across as someone who knows what he is talking about. During my interaction with him, he has shown eagerness to learn and lead the technology team. Always a good person to have in your team, he is very friendly and down-to-earth team member. I wish him luck. - Deepak Nohwal, Global BU Head, Nagarro
I met Kuldeep for a short time and was very impressed with his work! He can explain complex concepts easily.
- Ramkumar R - Architect, Paypal, Wipro
Kuldeep has been a very valuable help for our BlomURBEX project and products, both in coding and analyzing new development needs. He was new to the GIS technology environment but he managed to learn all key concepts in a very short time, so his contribution to the projects has been remarkable since day one. He has shown a good background on Java and Javascript technologies, writing neat and efficient code. He has also faced the analysis of several big and difficult tasks, which he managed to solve with intelligent and innovative ideas. The communication with Kuldeep has always been smooth and effective. He and I have worked very close, analyzing and coding the same products, and I enjoyed a lot talking with him about them because he always had very good insights and ideas, so I learnt a lot from him
- Jorge Alonso Fernandez
I have worked with Kuldeep for 1 year and it has been one of the best learning experience I ever had. He is a visionary towards technology and XR space. He is a great leader and always inspires people around him to achieve and contribute into the community. He is a great mentor and team builder. Kuldeep has added great value in my early days in the industry with technology, leadership and community contributions.
Aditya Chaturvedi